Concert Review
Slatkin Conducts Brahms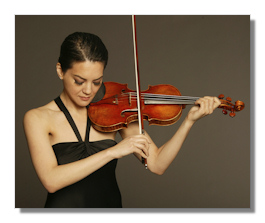 * Anne Akiko Meyers, violin
Detroit Symphony Orchestra/Leonard Slatkin
Detroit Orchestra Hall, 6 December 2013
Well, this is fun. When I looked at the program for this initially I said to myself "I love Brahms' 4th ." I literally knew nothing else about the program. And even though the title for the evening was "Slatkin Conducts Brahms" – which he did, with considerable flair – this program was much more about the first two pieces than the symphony. And that's all to the good.
Firstly, Hear Ye! Hear Ye! was not an obscure orchestral overture as I had originally guessed. Rather, it's a marvelously crafted ballet score that is far less "populist" than the great composer's later works, although I disagree with Music Director Leonard Slatkin's claim that you can't hear echoes of those pieces ahead. In short, the ballet is a courtroom drama, and it's amazingly vivid. Think of it, older readers, as a Perry Mason ballet. It's got the tough and crusty feel of the 30's and 40's, mixed with some really engaging dance numbers and some rollicking musical "testimony". Along the way, there's actual gunshots, gavels banging, a twisted take on the National Anthem, and some genuine beauty, too. I hope that this shows up on Naxos with Slatkin's new Copland series, as the conductor notes it's only been performed a handful of times.
Mason Bates is just a bit older than I am, but is already the composer-in-residence at the Chicago Symphony, amongst other titles and accolades. He's best known for expanding the orchestral sound to include non-traditional instruments and ideas, and his compositions really are wild. I really appreciate how carefully Bates considered problems of balance and texture in his Violin Concerto. By choosing to "stay acoustic" and yet also remain true to his unique compositional voice, he's created a major work with real staying power. It's a thrilling ride of a concerto, filled with those non-traditional sounds we look for from Bates, combined with a sure grasp of what came before him Anne Akiko Meyers and Leonard Slatkin premièred this piece together in Pittsburgh, and their joyous romp through the work here in Detroit showed real feeling for the music and obvious commitment. The Detroit Symphony played fabulously – they've had to learn boatloads of new music this season, and have been excellent throughout.
The Brahms after intermission received a lovely performance. The first movement emerged slowly, with no real tension, but halfway through the movement, Slatkin and his players woke up, and the sound changed. Thankfully, this energy and renewed vigor carried through the entire remaining sections. I'm not entirely sure I agreed with all of Slatkin's decisions, not so much in regards to tempo as to phrasing, but it's frankly difficult to argue with an interpretation that is so beautifully and warmly played. So all in all, a fine program, even if it wasn't about the Brahms.
Copyright © 2013, Brian Wigman