Concert Review
Mozart and Mendelssohn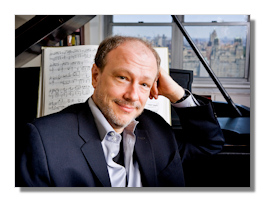 Overture to "The Magic Flute"
Piano Concerto #17
Overture to "A Midsummer Night's Dream"
Symphony #4
Marc-André Hamelin, piano
Detroit Symphony Orchestra/Mei-Ann Chen
Detroit Orchestra Hall, 12 December 2013
A good old fashioned concert, this: two overtures, a concerto, and a symphony. Furthermore, after so many new pieces in recent weeks, it was a delight to visit some classics of the repertoire. Under the enthusiastic baton of guest conductor Mei-Ann Chen, and aided by great pianist Marc-André Hamelin, the Detroit Symphony successfully delivered the goods.
The Mozart opener is basically indestructible, but Chen's attention to detail paid off from the very beginning. With an emphasis on string articulation and pleasingly forward winds, she revved up her charges for an exciting rendition. In the concerto, these same qualities allowed an absolutely lovely sheen to cover the proceedings. Certainly, this was preferable to the accompaniment provided for concertmistress Yoonshin Song's own Mozart concerto on November 30 th . For his part, Hamelin offered combination the poetry and strength that make his recordings for Hyperion so compelling. I didn't always feel like soloist and conductor were entirely in sync, but the solo playing was enviable for its natural flow and depth. The cadenzas seemed to be Hamelin's own, and proved to be inventive and idiomatic. Hamelin is after all, a fine composer in addition to his work as a pianist. Coordination issues aside, Chen also proved a willing partner. Not overly deferential in nature, she and the orchestra seemed to work in an organic give and take with their famed soloist.
Flying solo after intermission, Chen put her forces through their paces with brisk and invigorating readings of two Mendelssohn favorites. The overture was distinguished by some terrific string playing, luminous winds, and ill-balanced and questionable brass. This has been an issue on and off for an orchestra whose strings and winds have fully recovered from the financial crisis of years past, but the brass can be hit or miss. At the outset, the verdict was miss, but then something special happened. The brass balances were either corrected by Chen, or by the players themselves. I don't want to take any credit away from these world-class musicians either way, so I'll confidently say both. From there, it was almost entirely smooth sailing. The same miracle cure also happened on December 6th in the middle of the first movement of Brahms' Symphony #4, where the orchestra suddenly woke up and starting playing like a band possessed. This was even more drastic, and it's a credit to Chen, to Music Director Leonard Slatkin, to Yoonshin Song, and all of these great players that they can work together in this way.
In the "Italian" Symphony, Chen and the Detroit players simply rocked. It's been almost eight years since Detroit has heard this piece at the Hall, and it made a very welcome return. Chen clearly loves this music, and so did her colleagues. Perfectly articulated outer movements blazed with intensity, and inner movements oozed beauty and poise. Better yet, the glorious strings and winds were joined by a warmly burnished horn sound, ideally balanced and ringing with confidence. If anything was wanting, it's that a slightly less severe opening movement might have made a sunnier impression, and better contrasted with the finale. No matter, this was a great evening of great music. All involved should be very proud.
Copyright © 2013, Brian Wigman