Related Links
Recommended Links

Site News
Concert Review
The Detroit Symphony Plays Orff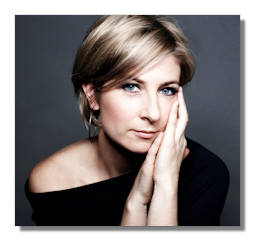 Kiera Duffy, soprano
Robert Baker, tenor
Hugh Russell, baritone
UMS Choral Union
Ann Arbor Youth Chorale
Detroit Symphony Orchestra/Leonard Slatkin
Detroit Orchestra Hall, 30 January 2014
A large crowd braved yet another night of bad weather to see Orff's masterpiece on display at Orchestra Hall. Music Director Leonard Slatkin opened his Detroit Symphony tenure with this piece in 2008, and now revisited it with a much-changed group of players. The results were tremendous. After a striking and committed reading of Gould's Spirituals, a brief intermission allowed the massive forces to assemble for Carmina Burana.
The huge choral forces of the UMS Choral Union and Ann Arbor Youth Chorale sang brilliantly. Slatkin didn't mess around with the score; he let his orchestra play and his singers sing. In a piece like Carmina, this is a really good idea. Keeping things moving briskly, Slatkin also proved masterful at bringing out the various moods and contrasts of the piece. The purely orchestral dances were wonderfully phrased, the Detroit players following his every whim. Bright, spot-on brass playing added tremendously to an exciting conception, and of course, strings and winds upheld the high standards of the house.
Soprano Kiera Duffy sang movingly, with real feeling in her solos, and also was attuned physically to the various feelings rushing around her within the music. Only her projection seemed suspect at times, but her characterization was stunning. The same went for baritone Hugh Russell, apparently somewhat of a specialist in this piece, who showed real depth of feeling and a great sense of humor and occasion. And tenor Robert Baker was hilarious as the roasting swan; while his singing was probably not to all tastes, I suspect that his genuine engagement in the role was enough to overcome any feelings of doubt about his casting.
Slatkin recorded this piece in St. Louis for RCA, and he knows the piece extremely well. My only concern was that he and his singers didn't seem in sync, at least until the midway point. From there, it was a stunner, capped off by a suitably grand conclusion. All in all, a marvelous evening, and a pure musical joy.
Copyright © 2014, Brian Wigman