Concert Review
Not So-Divine Dvořák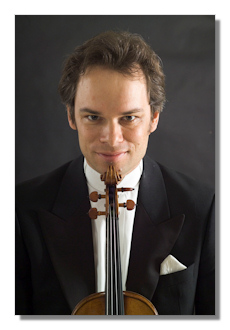 * Benjamin Schmid, violin
Detroit Symphony Orchestra/Hans Graf
Detroit Orchestra Hall, 22 February 2014
Well, you can't win them all, and this was a loser. Titled "Divine Dvořák", this program failed to come anywhere near fulfilling expectations. Nightmarish balances, poor insight on the podium, and some surprisingly careless playing all took part in ruining what ought to have been an exceptional evening.
First, a word on Hans Graf, a fine conductor and frequent enough visitor to Detroit: he has always flown under the radar somewhat, but has always struck me as a reliable musician and talented man. Very little of that talent, or of his connection to the Detroit players was on display here. Secondly, a word on Orchestra Hall: a nyone who has read my prior writings knows that Orchestra Hall is a genuine work of art and acoustic wonder, a gem in the city if there ever was one. It provides an ideal canvas for composers such as these, and if you mess it up, there's no excuse in a place where everything can be ideally heard.
Right from the start, In Sommerwind hinted at problems to come. Hans Graf clearly did not know what to do with the Detroit brass on this particular evening (in his defense, this has been a chronic problem for every conductor the last few years). More troubling was a somewhat bumpy, stop and start feel to a work that should flow as naturally as possible. Sure, the symphony's winds and strings played beautifully as always, and the closing pages were managed well, but that was easily the highlight of the evening.
Reading reviews on violinist Benjamin Schmid on disc went something like this; "great player, sometimes rough intonation". This was unfortunately apparent live, where the merciless double-stops and rapid runs of the Korngold Concerto for Violin seemed to tax this undoubtedly talented player. Sure, the notes were there, but who goes to see a major soloist for the notes?! Turn on Gil Shaham's classic recording on DG with Previn, and you'll find a high-flying soloist spinning magic with a conductor in similar form. And speaking of the conducting, the orchestral accompaniment here simply overpowered Schmid, to the point where, when he did play well, you couldn't hear it. Graf seemed unwilling – or worse, unable – to allow his soloist to set a tempo and work for it. What was good was good, what was bad was very bad.
The Dvořák Sixth following intermission was sadly, all bad. The piece itself is an underrated beauty of the symphonic repertoire and one of my personal favorites. It requires a careful mix of strength and tranquility, as well as a keen ear for the composer's gift for melody. None of that was present here. Graf's balance issues, uncomfortable in the first half, were disastrous here. The normally soaring strings of the orchestra took on a hardness and coldness that was totally at odds with the music at hand. There were still some very beautiful moments here and there, but as a whole ensemble sounded unconvinced by the vision their guest conductor was trying to communicate. The slow movement took on a wholly inappropriate Wagner-esque heaviness, and the third movement Furiant was a mess, slowing down every time the main theme appeared. The finale was even worse, with the Detroit musicians seemingly fed up with it all. With absolutely no attention to dynamics, and with all melody forgotten, the orchestra simply wailed away at their parts. It was superficially exciting, and I can imagine many first time listeners being thrilled, but it failed the composer in every way. A disappointment ending in disaster is not a good way to spend a Saturday. Here's hoping for better things to come.
Copyright © 2014, Brian Wigman