Concert Review
The "Virtuosity" of Sarah Chang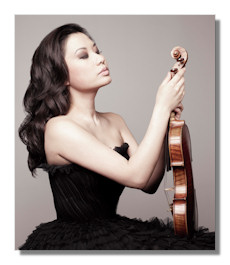 * Sarah Chang, violin
Detroit Symphony Orchestra/Leonard Slatkin
Detroit Orchestra Hall 11 October 2014
Now 70, Music Director Leonard Slatkin began his seventh season with the Detroit Symphony Orchestra. In front of a sold-out Orchestra Hall, and in the presence of Detroit Symphony administrators and major American composers, the 2014-2015 season began in a distinctly mediocre fashion. As the conductor himself points out, this really feels like his fourth; contractual obligations, a heart attack, and a work stoppage all but ruined his first three. But one has to wonder if his enthusiasm is still there. Certainly, Slatkin remains a compelling advocate of American music, which he will highlight with a "Concerto in America" series. And he maintains a warm relationship with the Detroit public, who appreciate his willingness to travel the metropolitan area and speak casually with them during concerts. Yet, as I begin my own third season covering the ensemble, it is increasingly clear that despite new players and new programs, something is amiss in Motown.
The concert started well. The Bolcom was written for Slatkin's birthday in September and premiered last month at Tanglewood. I heard that broadcast, and this Detroit version favorably compared. "Bill" as the conductor affectionately calls him, has a fine sense of humor, and the intonation of Chopin's Funeral March about two minutes in proved hilarious. On the flipside, the Ron Nelson piece was a lovely little string piece, supported ably by the famous (and still excellent) Detroit Symphony winds. So far, so good. The Barber was next.
Unfortunately, that proved a near disaster. Sarah Chang is a fine artist, but she clearly has no real affinity for Barber. One of the more irritating consequences of programming a whole year devoted to a specific country is that you need to make sure your soloists can play what you book them to play. Chang's small tone, frustrating vibrato, and clear discomfort with the idiom made for an unhappy performance. The orchestra also proved difficult. Although Slatkin arguably conducts Barber better than any conductor alive, he's had significant issues in the Motor City with sectional balance and quality brass playing. The Detroit Symphony bills itself as world-class, and there are plenty of recent recordings and concerts to support that claim. However, the orchestra has to be concerned that matters relating to dynamics and accompaniments continue to persist. Brass almost always play too loudly, the new percussionist seemed uncomfortable, and no one seems to much care either way, either in the audience or among the players. Orchestra Hall is one of America's more acoustically perfect venues; as I've previously written, these mistakes are not space-related. This needs to be fixed, and quickly.
These concerns also applied to the Brahms. I saw Alan Gilbert conduct the New York Philharmonic at the University of Michigan a while back, and that very fine performance is my live benchmark for the work. Readers of Classical Net also know that I review a good deal of Brahms on disc as well. Slatkin has never really struck me as a great Brahms conductor, though his Symphony #4 with these same forces was quite good. On the plus side, the string tone is the best I've heard from these players in years. It's rich, it's weighty, and it's everything Slatkin believed he was getting when he signed up for the job. Good for him, and good for concertmistress Yoonshin Song, who is amazing. The first two movements were generally outstanding, since they favor the strings and winds. The third movement felt a touch episodic and lumpy. However, the finale suffered from poor balances, especially in the aforementioned brass. These players have a habit of simply leaping out of the textures at random, and the effect is jarring. I also found the final movement lacking in emotional depth and heat; it felt a bit routine.
You may very well as why I am being so critical, especially of an opening concert. I saw this same orchestra give a vastly superior concert this summer in a markedly inferior acoustic space. I was hoping that this ensemble would build off one of its more active and engaging summer seasons in recent memory, and cohere as a group. So far, that's not what I'm hearing. Of the four people in our social party for this evening, two are not especially musical by trade, yet they came away feeling like a night at the symphony should have been more special. Of that I have no doubt, but I do expect better things to come as this unique set of programs unfolds. Talk about an inauspicious beginning!
Copyright © 2014, Brian Wigman