Concert Review
Organ Recital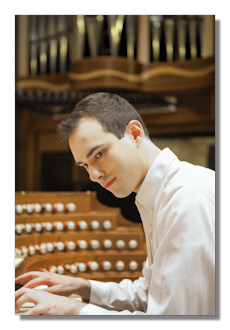 Italian Concerto, BWV 971
Passacaglia & Fugue in C minor, BWV 582
Maurice Ravel: Vocalise-étude en forme de Habenera
Louis Vierne: Romance & Final from Symphony #4, Op. 32
Leo Sowerby: Toccata
Charles-Marie Widor: Andante Sostenuto from "Symphonie Gothique", Op. 70
Christopher Houlihan, organ
The Organ at First Presbyterian Church, Birmingham Michigan, 19 October 2014
Christopher Houlihan is a star. He's a bright, engaging musician who is only 27, and already seems destined to bring the pipe organ back into the mainstream. Good thing, too; that's one of his self-professed goals. Now on tour, he made a brief stop in Michigan. This is also a good thing. First Presbyterian of Birmingham holds many happy memories for me, both personally and musically. Thanks to Mr. Houlihan, I have another one to cherish. Going to a pipe organ recital with an organist and his daughter can be tricky, because a bad concert will be very obvious to them. So to hear words like "fantastic", "amazing", and "perfect" is certainly an indication that things went very well. In front of a small but musically star-studded crowd (some of the better organists in the area were in attendance) Houlihan proved every bit the sensation his press reviews have proclaimed. The recently refurbished organ at First Presbyterian also proved worthy of praise. While not a world-class instrument – especially apparent in some of the more brassy stops – it nonetheless produces an admirable range of color and expression.
The two transcriptions by Houlihan that opened the program were for me the weakest links. I am interested in organ transcriptions more than I like them, and if Jean Guillou couldn't change my mind, neither can Houlihan. Nonetheless, his chosen arrangements were both inventive and vibrant. In the Bach Italian Concerto, the sheer virtuosity was astounding, but perhaps better still was the organist's ability to clearly articulate each line of counterpoint and harmony. This was a recurring theme throughout the program, a simply amazing amount of textural clarity that we just don't hear on the organ. In the Ravel, this exceptionally colorful composer responds well enough to the organ, although certainly Bach sounds better. Still, I found the effects on display here very effective, while showing Houlihan as a still-evolving musician.
In the Vierne, these two pieces were dispatched with impressive emotional range. The Romance was touchingly poetic, the Final was almost demonic in its dark and swirling colors. But each inner voice was so clearly heard that nothing ever felt like empty virtuosity. Rather, Houlihan presented us with a daring agility allied to a supremely musical outlook.
After intermission, the quality of musicianship was just as evident. Leo Sowerby's Toccata was nothing short of dazzling, a true tour-de-force for the instrument. Undaunted by the technical challenges, Houlihan blazed through, yet still captured our attention with a transparency of sound that many organists only dream of. The Widor was a really pleasant surprise as well; too often this composer is subjected to flashy effects and daredevil tricks. But in a sweet and meditative piece like the Andante Sostenuto, such fears were put to rest. The mark of a great artist for me is the ability to effectively demonstrate new sides to a composer and his work that we don't often hear. Therefore, Houlihan fits the bill.
Finally, the program ended with an absolutely magnificent Passacaglia and Fugue in C minor. The young organist tackled the work with aplomb. Yet again, I was most impressed by his willingness to bring every voice into play, allowing the genius of Bach's counterpoint to ring through the church. As an encore, there was more Bach, played with a deliciously light touch and great elegance.
No concert is perfect. I feel like Houlihan sometimes has slight difficulties with changes of tempo. They are slight, almost unnoticeable issues, but ones that undoubtedly interrupt the flow of his otherwise excellent playing. Additionally, fine as it is, I found myself wanting to hear Houlihan on a truly great organ. But this was still a night of simply tremendous artistry. I want to thank all involved for bringing him to Birmingham, and to thank Christopher Houlihan for his devotion to his art. I look forward to more great things.
Copyright © 2014, Brian Wigman