Concert Review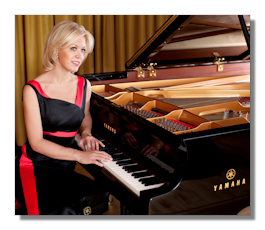 Tchaikovsky Festival II
March Slav in B Flat Major, Op. 31
Piano Concerto #1 in B Flat minor, Op. 23
Symphony #1 in G minor "Winter Daydreams", Op. 13
Olga Kern, piano
Detroit Symphony Orchestra/Leonard Slatkin
Detroit Orchestra Hall 14 February 2015
At his best, Leonard Slatkin remains an excellent and thoroughly professional musician. For the second night of the Detroit Symphony Orchestra's Tchaikovsky Festival, he paired two audience favorites with a relative rarity in the concert hall. Always a fine conductor of Russian music, Slatkin and his orchestra provided a solid concert; if it didn't blow us away, it left us satisfied.
The overall ensemble seemed to struggle at times. It is exceptionally cold right now in Detroit, and Orchestra Hall is an old building. There were issues with tuning at certain points, and I am willing to attribute most of that to the unusually brutal conditions that seeped into the concert hall. Aside from this, there were some general disagreements on entrances – in the concerto especially – that proved somewhat disconcerting. But these comments aside, it was a very enjoyable evening.
The March Slav was fine. Slatkin whipped up a frenzy where he needed to, but the ensemble seemed to hold back here and there. Nothing was bad, and it proved an adequate curtain raiser, but you can do more with this piece. In the concerto, Olga Kern was mostly excellent. She and Slatkin obviously enjoy working together, and she knows the acoustic of the hall as a regular soloist. The Detroit brass – for my money the weakest section of the orchestra right now – were quite good. They have a habit of playing at the same dynamic level that proves tiresome after awhile, but they blended when it was required. The strings and winds were just as fine as you could have wanted, the tuning issues notwithstanding. Kern certainly played with fire and personality, though it was not a performance that took many risks. The concerto sounded exactly like you would expect it to, and thankfully that was enough for most of the crowd.
The First Symphony is obviously a piece that Slatkin believes in. There were many, many beautiful moments and overall it was the work that lingered most in the mind as you left the hall. Again, the strings and winds were exemplary, but there was a general feel of sparkle and artistry that is so often missing from recent Detroit Symphony concerts. Whether or not this performance was one for the ages is debatable; others have certainly brought more collective virtuosity and drama to the work, but there was great pleasure from hearing these players in such good form. The closing pages were a delight, and the audience was justifiably appreciate. Like the Beethoven Festival from 2012, I expect that these concerts will only get better in the weeks ahead.
Copyright © 2015, Brian Wigman