Related Links
Recommended Links

Site News
Concert Review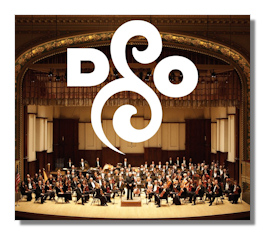 Tchaikovsky Festival III
Swan Lake, Op. 20 (Suite)
Fantasy Overture in B minor "Roméo & Juliet"
Symphony #3 in D Major "Polish", Op. 29
Detroit Symphony Orchestra/Leonard Slatkin
Detroit Orchestra Hall 20 February 2015
Although Leonard Slatkin isn't always the hottest or most innovative conductor, there's no denying that he's still an excellent musician. My reactions to his subscription concerts have been decidedly mixed, but his music making is almost always defined by exceptional professionalism and strong musical values. As with his 2012 Beethoven Festival, the overall ensemble and sectional balances are improving with every concert. What I'm finding is this; the new players of the orchestra respond well to bonding over the "classics". Concertmistress Yoonshin Song brought the strings under her wing in 2012, and the new principal players of the orchestra are similarly asserting themselves as this present Festival continues.
Two of the works on this program are well known, namely the Suite from Swan Lake and the Fantasy Overture in B minor "Roméo & Juliet". Slatkin has always done ballet scores very well, and it was clear from the quality of the music-making that this remains true. Exciting, incisive, and wholly in the spirit of the dance, the Suite drew well-deserved applause. The Detroit Symphony's much-maligned brass (at least by me) were in top form, and dynamically sensitive. As for the stings and winds, they had none of the tuning problems that I noticed last week, and they were uniformly lovely. The Fantasy Overture featured one of Slatkin's typically cheerful opening lectures, where he compared sections of the various performing editions of the work. So lighthearted and pleasant are these that they never feel anything less than conversational. This is one of the conductor's great gifts, and reminds me – as one of his grumpier critics – how lucky we are to have him in Detroit. Like the rest of the program, he's recorded these works before in St. Louis; the Overture was on a slightly gaudy RCA issue with nude lovers on the cover. This performance was thrilling, and reflected a lifetime of experience in this music.
The "Polish" Symphony is cast in five movements and is the least performed and recorded of the six main symphonies (the "Manfred" has made a comeback on disc). Why it's subtitled the "Polish" is anyone's guess, since besides a final polonaise it has nothing to do with that country. Slatkin conducted this work from memory, drawing very fine playing from everyone. Unfortunately, advocacy of a work can only go so far, and the piece lacks great melodies and the appeal of Tchaikovsky's later works. Still, it would hardly be fair to simply ignore the work in a survey like this, and it has to be said that the Detroit Symphony sounded better here than I've heard in many weeks. The audience members who braved the arctic chill were very happy. Things are looking up for the Detroit Symphony Orchestra.
Copyright © 2015, Brian Wigman