Concert Review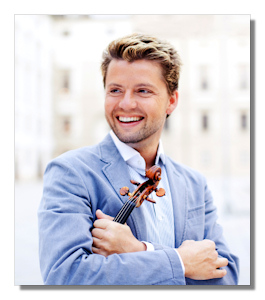 Tchaikovsky Festival IV
Eugene Onegin, Op. 24 (Polonaise)
Violin Concerto in D Major, Op. 35
Symphony #4 in F minor, Op. 36
Julian Rachlin, violin
Detroit Symphony Orchestra/Leonard Slatkin
Detroit, Orchestra Hall, 27 February 2015
The Detroit Symphony Orchestra continued its Tchaikovsky Festival with a program of the composer's most beloved works. Though the Detroit Symphony remains a largely outstanding ensemble, there are significant barriers to excellence within its ranks. And while Leonard Slatkin is a reliable and highly amusing musician in concert, he's not known for taking risks or for being the most volatile conductor on the podium.
This concert proved all of those statements true. The Polonaise from Eugene Onegin is a delightful little chestnut, and is a great curtain raiser. Unfortunately, the Detroit players made a heavy tread here, with more than a little muddiness throughout. Certainly, there was some very fine wind and string playing, and the brass also played surprisingly well. Throughout the Festival, Slatkin has done an admirable job of reigning in his somewhat young and definitely overenthusiastic charges, and here they played with a good deal of attention to dynamics. Overall though, there was a certain lack of sparkle, or plain fun that stopped this work from being ideal.
In the Violin Concerto, Julian Rachlin brought a truly individual vision to a work that I could personally go without ever hearing again. An accomplished violist as well as a daring virtuoso on the violin, Rachlin was able to cultivate a truly dark and rich sound that was very appealing. Less engrossing was his intonation, he had audible struggles in the first movement especially (and I've heard it was much the same at the concert on February 26th). Still, there was fire aplenty as well as an outstanding and well-balanced accompaniment from Slatkin and his orchestra. The brass played particularly well, and the audience was rightfully appreciative.
Since I last saw the Detroit Symphony play the Tchaikovsky Symphony #4 (not recorded here on Classical Net) it's clear that Slatkin thought long and hard about what he wanted to bring to this work. And indeed, there were far more personal touches than your typical Leonard Slatkin performance usually holds. However, these touches occasionally distracted from the music; odd tempo shifts and extended pauses did little to tell us about this beloved score, nor did they necessarily heighten the drama. Still, there were many lovely things to savor, including excellent string and woodwind playing. The new percussion section of the ensemble has also settled in. For the most part, the Detroit brass was fine, until the Finale, where they simply tried to play too loudly and lost their balance. Still, this was a fine evening out, and better spent than most.
Copyright © 2015, Brian Wigman