Concert Review
Detoit Symphony Premiere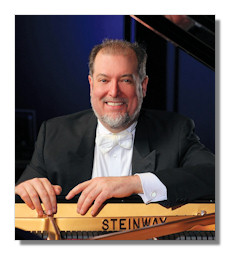 * Garrick Ohlsson, piano
Detroit Symphony Orchestra/Leonard Slatkin
Detroit Orchestra Hall, 8 & 9 October 2016
I don't know what Garrick Ohlsson owes Leonard Slatkin: perhaps he lost a big poker game in St. Louis around 1994 or something. But every time Slatkin trots out a new theme for the season, there's Ohlsson on the Orchestra Hall stage. This time, the veteran pianist brought no less than two major American concert works to life. While my cynicism is by now very clear, I want to be equally vocal in saying these were both highly satisfying and musically sensible programs. The Detroit Symphony Orchestra sounds better than they have in a long time, and there was a consistency and attention to detail that I 'm happy to welcome back after a few shaky seasons overall.
Slatkin's most recent disc of Copland for Naxos reminded us all of how fine a conductor he remains, and so did this weekend. Whatever his faults – a somewhat generic orchestral sound, adventurous programming with questionable payoff – he's as charming and energetic as ever. Here, in music that his father did so well before him, to say nothing of his own glory days in St. Louis, Slatkin the Younger was able to effectively communicate his love and devotion to the works at hand. Bump, which was a Slatkin commission, was described by the conductor as "a conga line on steroids". It's wonderful, even if the conga comparison breaks down from there. For sheer power and excitement, Slatkin still delivered the goods. Even better, there was a real attention to sectional balances and a willingness to rein in the brass just enough for the orchestra to have a real sound. Nothing was coarse.
The Copland Piano Concerto is hardly a masterpiece, but it's great fun and one of the few pieces in which we find the composer working with a jazz idiom. I 've never really considered Ohlsson to be much of a colorist, especially on disc, but I had also forgotten just how fine his Gershwin recordings are. Needless to say, there was a deft touch involved, and Ohlsson made the piece his own. Both concerts featured a largely consistent interpretation, with the orchestral support slightly more nuanced and slightly less overbearing on the October 9th program. In the Rhapsody in Blue, I found the second performance again to be preferable. Everything – from a more confident clarinet glissando to cleaner transitions between sections – was slightly better. However, Saturday, October 8th featured a more personalized and subjective pianistic contribution, one that I found more thought provoking…even if it wasn't quite as musically coherent. There were a few bumps in the road on Sunday as well, but they were more readily apparent to the concert pianist next to me.
Much as I admire the Milhaud from a compositional perspective, the chamber-like intimacy is hard to hold together and the piece is deceptively challenging to both players and listeners. I detected a slight loss of freshness on the second program, but a small gain in overall cogency. All the Detroit Symphony players were magnificent on both days. And speaking of magnificent, the Pines of Rome proved to be a stirring conclusion. Clarity and accuracy were at the heart of Slatkin's conception, which probably wouldn't be effective on disc. For all the splashy percussion and confident brass playing on the 8th, I found the noise toned down a little on the 9th to the music's benefit. In both cases, the interpretation took a while to get going, but by the end the noise is what we all wanted anyways. On the first program, there was some absolutely tremendous string playing, but I was not as moved on the 9th. Conversely, the later program seemed more energized in the outer movements, which are frankly the two that people care about. All things considered, this was a very fine pair of concerts. I 'm very happy I was there.
Copyright © 2016, Brian Wigman