Concert Review
Detroit Symphony Neighborhood Series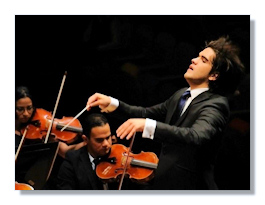 Felix Mendelssohn: Overture "A Midsummer Night's Dream", Op. 21
Astor Piazzolla: Four Seasons of Buenos Aires *
Antonín Dvořák: Symphony #9 in E minor, Op. 95 "From the New World"
* Yoonshin Song, violin
Detroit Symphony Orchestra/Manuel López-Gómez
Southfield, Michigan, Congregation Shaarey Zedek, 16 March 2017
This is the kind of concert that makes the Detroit Symphony Orchestra's "Neighborhood Series" so valuable. Not only does it showcase a fine orchestra in a community setting, but the focus tends to be on chamber-like repertoire that doesn't require a huge stage or an overwhelming amount of players. However, Southfield's Congregation Shaarey Zedek can easily accommodate larger repertoire, and this outstanding program proved a winner.
The Mendelssohn is always a lovely curtain raiser, but the synagogue might not have been the best acoustic space for the work. Manuel López-Gómez is clearly a dynamic young conductor who favors crisp phrasing and swift tempos. Unfortunately, the carpeting and unusual layout of the worship space tends to make string articulation blurry at high speeds, as well as imparting a rather artificial sound to percussion. No complaints about the actual players, who responded with gusto to this youthful score. As always with this orchestra, the strings and winds carried the day, but everyone involved contributed to an excellent performance.
Presented for the first time by the orchestra, the Four Seasons of Buenos Aires is an intimate and highly imaginative score that takes Vivaldi's instantly recognizable group of four concertos and transports it into a world of Latin flair and jazz. While each "season" only receives one movement – as opposed to Vivaldi's three-movement Baroque pieces – each section is wonderfully contrasted. Piazzolla's signature tango sound (made famous by artists such as Yo-Yo Ma and the Kronos Quartet) is fully on display. Violinist Yoonshin Song has distinguished herself as an exceptional concertmistress, and any opportunity to hear he fly solo is welcome. The small band of players were equally fine, guided by López-Gómez in music he clearly relishes.
The Dvořák was another wonderful performance, one that significantly improved upon other versions I had heard from this orchestra. The solo work was exceptional and technically flawless. López-Gómez presented this evergreen work neither as tragically or as rustically as some, but imbued the score with character and virtuosity. I was particularly impressed by the conductor's ability to cultivate a unique sound from each section of the orchestra. Both the conductor and acoustic played a role in keeping the orchestra's famously unbridled brass section in check, but the players deserve credit for an unusually nuanced feel.
Highlights included a stunningly played pair of outer movements, a deeply moving Largo (with terrific English horn), and a very powerful Scherzo. This latter movement again turned a little blurry, and if López-Gómez could be said to have an obvious fault, my money would be on an overabundance of enthusiasm that sometimes leaves him slightly out of sync with his players. But that's a minor sin, one which he's hardly alone in committing. Overall, this program – which attracted nearly 1,000 people to the suburbs on a Thursday night – was wholly successful and a welcome reminder of just how well this orchestra can play.
Copyright © 2017, Brian Wigman