Concert Review
Uchida in Ann Arbor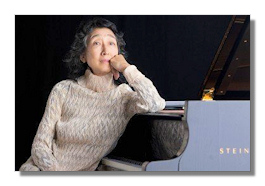 Wolfgang Mozart: Piano Sonata in C Major, K. 545
Kreisleriana, Op. 16
Fantasy in C Major, Op. 17
Jőrg Widmann: Sonatina facile
Mitsuko Uchida, piano
Hill Auditorium, Ann Arbor, Michigan 24 March 2017
One of the most serious and respected pianists of her generation, Mitsuko Uchida made her second appearance in Ann Arbor on the campus of the University of Michigan. Hill Auditorium was largely filled, and that's unsurprising given that few artists have mastered this music to the extent that Uchida has. In both Schumann and Mozart, she has few peers, and this program – unlike her previous recital at Hill of Bach and Chopin – also demonstrated her commitment to contemporary repertoire.
The Mozart K. 545 is typically seen as student material, but Uchida treated it like the minor masterpiece that it is. So many works have been written for students and children that we tend to forget that these practice pieces and miniatures remain an important part of the repertoire. Furthermore, such pieces can be a drag on the ear, just as they can be elevated by superior musicianship. Uchida's crystal-clear phrasing, impeccable poise, and effortless (but never empty) virtuosity carried the day. Hill's warm and spacious acoustic proved to be an ideal setting. With the Kreisleraina, the first of two Schumann pieces on the program, we reached prime Uchida territory. Although pianists can certainly bring a greater sense of sweep and Romantic ardor, few can challenge the focused intensity and cogency that Uchida brought to the work.
The Japanese aren't typically thought of as being overly playful, but Uchida's enjoyment in playing the new Sonatina facile from Widmann was entirely in evidence. Deliciously modeled off Mozart's C Major Sonata that opened the program, this 2017 work expands upon Mozart's musical ideas with flair. With humorous facial expressions and dead-serious artistry, Uchida had the audience laughing and searching through the entire performance. I'm not certain if the new work will become any kind of repertoire staple, but Uchida reminded us that – for all her expertise in the Classical and Romantic eras – she remains a stalwart champion of less accessible music.
Finally, a masterly account of the C Major Fantasy closed the program. Once again, you could argue for a bigger and beefier way with the music, but not a more loving one. Despite her advanced age, Uchida remains – as evidenced by her terrific series of Mozart concertos in Cleveland – an exceptional technician. She may not be a thunderous virtuoso, but she never was in the first place, and it's hard to complain about such a beautiful tone. The encores were again a delightful mashup of cerebral playfulness, and the whole program reflected careful thought and a deep love of music. U of M students should be deeply thankful for the opportunity to experience such sensitive artistry, and the rest of us should never take it for granted.
Copyright © 2017, Brian Wigman