Concert Review
Guitar Genius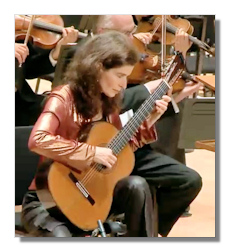 Antonio Vivaldi: Concerto for Lute in D Major, RV. 93 *
Chris Brubeck: Affinity for Guitar and Orchestra *
Gustav Mahler: Symphony #10 (arr. Cooke)
* Sharon Isbin, guitar
Detroit Symphony Orchestra/Leonard Slatkin
Detroit Orchestra Hall, 6 April 2017
An interesting program, this, made worthwhile by the presence of Sharon Isbin. The Detroit Symphony billed her as a "Guitar Genius", and for once, the hype was justified. Talking to Sharon by phone, her evident joy in performing and exploring her instrument was matched only by her seriousness and technical prowess as an artist. Simply put, the two works for guitar were almost completely wonderful, and worth the price of admission.
I don't like Vivaldi's lute works. I have heard them on lute, guitar, and mandolin. I typically avoid them at all costs. So, I was delighted to enjoy this little gem as much as I did. Ms. Isbin told me that embellishments were crucial to keeping this music interesting, and I wholeheartedly agree. The slow movement was perfect, lovingly phrased and beautifully played. Even the orchestra – an ensemble I typically detest in Baroque period music – contributed in a positive way. And the Finale was light and full of good humor.
The Brubeck was a single-movement tour de force for guitar. At less than a year old, it's one of Isbin's newest projects. Ms. Isbin worked very closely with the composer, even encouraging him to pay tribute to his late father in the slow movement. The results were moving and wholly convincing. Despite some issues between conductor and soloist – not to mention less than thrilling orchestral playing – there were plenty of things to appreciate. Not least of these was the stunning playing of Isbin, who explored the full expressive range of her instrument.
From there, the concert was rather pedestrian. In the program notes, Leonard Slatkin admitted to not fully believing in Cooke's completion of the Mahler Tenth. It showed. The playing as such was magnificent, but there was very little sense of emotion or excitement. Huge climaxes were superficially exciting, and quieter moments were fleetingly moving, but the overall effect was uninspired. Cooke's vision has been questioned forever, it seems, but if you are going to play it at all, it requires complete conviction. However, the audience loved it, and for Isbin, this was worth the trip.
Copyright © 2017, Brian Wigman