Concert Review
Concerto for Jazz Trio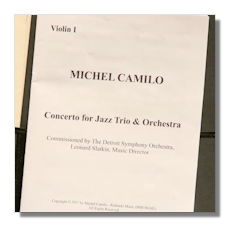 Partita for Solo Violin #3 in E Major, BWV 1006 (Prelude) *
Cantata BWV 29: Sinfonia: Wir danken dir. Gott, wir danken dir
Cantata BWV 147: Chorale: "Jesu, Joy of Man's Desiring (arr. Ormandy)
Cantata BWV 208, #9: Aria: "Schafe können sicher weiden" (arr. Barbirolli)
Toccata & Fugue in D minor, BWV 565 (orch. Stokowski)
Michel Camilo: Triple Concerto **
Lukas Foss: Baroque Variations #3: On a Bach Prelude (Phorion)
Dmitri Shostakovich: Jazz Suite #1
* Yoonshin Song, violin
** Michel Camilo, piano
** Cliff Almond, drums
** Ricky Rodriguez, bass
Detroit Symphony Orchestra/Leonard Slatkin
Detroit Orchestra Hall, 22 April 2017
This was a truly fascinating, carefully constructed program. I'm very hard on Leonard Slatkin and his orchestra, so I articulate that praise in the fullest sense I can. Perhaps it was inevitable that the famous Stokowski arrangement of the Toccata and Fugue would appear here, but everything else was an unexpected joy. True, there were some moments of questionable balance (nothing can seemingly fix that) but far more noteworthy was the sheer joy that these musicians brought with them.
Following a heartfelt and nearly flawless solo Prelude from Yoonshin Song, the orchestra launched into the Sinfonia from BWV 29. It's odd to hear this orchestra play Bach, but it was wonderful to hear a Bach transcription from the composer himself, and not just the usual sources throughout the 20th Century. The ensemble was mostly crisp and well-focused, though the electric organ at Orchestra Hall is among the uglier instruments I've heard in a professional setting. The uncredited organist was also not particularly inspired. Still, this was fun.
More interesting still was Foss' Phorion. Leonard Slatkin recalled seeing the work in its infancy under Leonard Bernstein, and apparently hated the piece. It's an insane deconstruction of that very same Prelude that opened the program. Electric piano, electric guitar, and a hammer smashing bottles are but three of the unusual elements here. There's a Romantic era cello solo, a race between piccolo and flute (complete with a "Winner" sign), and it's no wonder that so many hated the work. However, it's both a timely reminder of music in the 1960s, and a testament to Foss' very real genius. I wouldn't suggest it for everyday listening, but there's no denying how cool the experience was. Finally, the first half ended with three "true" Bach transcriptions. The Barbirolli is notable for having a more effective introduction into "Sheep May Safely Graze" than say, Stokowski. Ormandy's predictably gorgeous take on Bach uses only the strings. Lastly, Stokowski's Toccata was given a fine reading, not better than the old man himself, but lovingly shaped and played with gusto.
The Shostakovich Jazz Suite #1 is hardly a suite, let alone jazz. It's catchy and fun, but hardly prime music. If nothing else, it speaks to the East-West divide and how the Cold War affected art. Michel Camilo's stunner of a concerto, on the other hand, was pure jazz and pure fun. A Detroit Symphony/Leonard Slatkin commission, the work explored the full range of a virtuoso jazz trio. I can't remember the last time that I saw Slatkin having so much fun. I don't know if he was able to convey his joy to the orchestra, which – surprisingly for this bunch – failed to engage me in the strings and winds, especially. The brass played with real flair and sparkle, which isn't a compliment I hand out lightly.
Camilo played with fire and passion. For the most part, his scoring was effective, though there were too many times where the orchestra drowned him out. No such problems for drummer Cliff Almond, though I fear that there may have been one too many drum cadenzas. No matter. This virtuoso jam session was interrupted by a deliciously dark slow movement, one which demonstrated Camilo's range as a composer. I was impressed by the wide variety of moods and flavors. Ricky Rodriguez didn't have as much to do as his colleagues, but he is clearly a master of his instrument as well. An encore for the trio, and then for Camilo ended a most unusual evening at the hall, but also one of the best I've heard in some time.
Copyright © 2017, Brian Wigman