Concert Review
My Secret Heart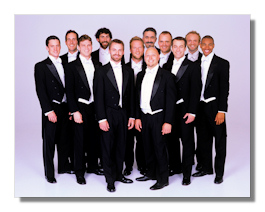 Sebastián de Vivanco: Veni, dilecte mi
Jehan L'Héritier: Nigra sum
Giovanni Pierluigi da Palestrina: Osculetur me
Jacobus Clemens non Papa: Ego flos campi (a 3)
Francisco Guerrero: Surge, propera amica mea
Philippe de Monte:
Bonjour mon coeur
Le premier jour du mois de May, Madame
Anthoine de Bertrand: Ce ris plus doux
Jaakko Mäntyjärvi: "Hommage à Edith"
Eric Whitacre:
Go, lovely rose
This Marriage
Stephen Foster:
Ah! May the Red Rose Live Alway!
Jeanie with the Light Brown Hair
Mikhail Glinka: My Blood is Blazing With Desire
Sergey Taneyev: Behold, darkness has fallen
Sergei Rachmaninoff: Vocalise
Augusta Read Thomas: Love Songs
Noël Coward: I'll Follow My Secret Heart
George Gershwin: Love Walked In
Chanticleer
Kirk in the Hills, Bloomfield Hills, Michigan 25 April 2017
I had heard from colleagues that Chanticleer is a group you need to see once or twice. Despite their well-deserved reputation as an all-male "symphony of voices", they also tend to have an equal reputation for churning out similar programs. So, the good news is that most of this repertoire is less known, even to fans who might have Chanticleer's many fine CDs. Centered around love, the meticulous attention to detail and gorgeous blend was ideally suited to both the program and to the magnificent Gothic wonder that is Kirk in the Hills. The bad news is that several selections here were less than ideal, even if most of the audience went home happy.
The first half of the program was mostly excellent. Palestrina and Monteverdi are familiar if you follow choral or sacred music, but I was happiest with little-known French selections from de Monte and de Bertrand. The rest was equally fine, though it seemed some vocal runs were a hair messy, and I even caught some questionable tuning that must have come as a surprise to those who know this group exclusively from the studio. A recent commission from Jaakko Mäntyjärvi proved a substantial and worthy addition to an impressive library of pieces that these gentlemen have exposed us to over the years. Inventive harmonies and expertly chosen texts made this newest work the highlight of the first half, and perhaps the program.
Unfortunately, the romance may be coming to an end between choral music lovers and Eric Whitacre. I remember falling in love myself, captured by the seemingly effortless harmonies and sincere texts. However, his recent work is not so special, and many of us have become skeptics. The two pieces here were early works from happier times, but they were less than perfectly performed. Go, lovely rose was fine, but This Marriage requires more innocence and less effortful phrasing to be effective. The two Stephen Foster pieces initially seemed a poor decision considering how many myriad options could have been selected instead, but these were happily un-sticky and tastefully arranged.
The Russian portion of the program that followed intermission was good, but nothing can convince me that Rachmaninoff's Vocalise is great music, and it was less so in vocal form. The centerpiece of the second half, Augusta Read Thomas' Love Songs alternated between compositional excellence (the outer songs especially) and truly bizarre choices in text-painting that provoked uncomfortable audience laughter. There is a portion of the work that deals with "the love of a woman", and the score – written for this ensemble – calls for loud laughter from all involved. Funny at first, the gimmick is unbearable at the end and even more unfortunate given how good the rest of the work is. After that intriguing albeit unsettling experience, the program closed with some popular standards, engagingly arranged without being especially memorable. Freddy Mercury's Somebody to love ended the program on a low note, as the men sounded disinterested and Queen is clearly not meant for unaccompanied vocals. What a space, what a sound, but the program ultimately left me wanting more.
Copyright © 2017, Brian Wigman