Related Links
Recommended Links

Site News
Concert Review
Neighborhood Concert Series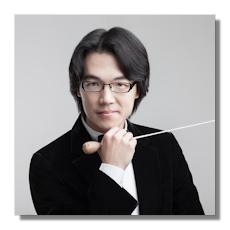 Wei Yu, cello
Detroit Symphony Orchestra/Lio Kuokman
Kirk in the Hills, Bloomfield Hills, Michigan 29 April 2017
Within the majestic space of Kirk in the Hills – essentially a Gothic Scottish masterpiece tucked away off Michigan's Woodward Avenue – a vastly reduced Detroit Symphony Orchestra played a wonderful concert under Lio Kuokman. Kirk's Music Director Glenn Miller has now had the Detroit Symphony and Chanticleer at his church within a week, so he must be happy about the great music rolling through. Young and enthusiastic, conductor Kuokman led his (mostly) string-based forces in an innovative mix of works that all pay homage to earlier musical periods. Aside from the Elgar, which is a Leonard Slatkin favorite, these aren't pieces one hears often in Detroit, and there was a genuine feeling of discovery.
Well, mostly. Elgar is a composer that Detroit Music Director Leonard Slatkin still conducts as well as anybody on this side of the pond, but Kuokman did not seem to share the same commitment. Mind you, the Op. 20 Serenade is not a shattering masterwork like the Cello Concerto, but that's no excuse for rushing the Finale or underplaying the previous movements. And despite crisply polished framework, the orchestra was unable to redeem Wei Yu's questionable intonation throughout the C Major Cello Concerto. Also, I found the choppy and tonally unappealing cadenzas to further dampen my impressions. It was hardly all for naught, as I appreciated (and even admired) Yu's dynamic shadings and the orchestra's willingness to be an equal partner.
The second half, however, was entirely excellent. The Gounod is a lovely little work that was written for the best wind players in France, and perhaps no orchestra in the United States (save for Boston) is more built on a legacy of French-style wind playing. All this is a long way of saying that this gem was a real treat, and only once did I feel the horns overplayed. Otherwise it was a wonderful blend, aided by a warm acoustic at the Kirk. Finally, the Bartók was ideally paced, highly intense, and convincingly conducted. Whatever shortcomings he may have as an Elgar conductor (and it's not exactly something that will ruin a career, except perhaps in Manchester), there's no question that Kuokman has the chops for modern music. Climaxes – especially in the outer movements – were stunning, and the fabled strings of the Detroit Orchestra delivered their best work. This was a delightful surprise.
Copyright © 2017, Brian Wigman