Related Links
Recommended Links

Site News
Concert Review
Marsalis' Violin Concerto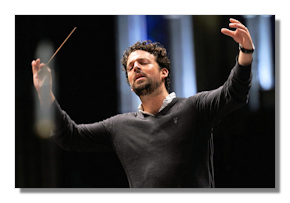 Detroit Premiere
Nicola Benedetti, violin
Detroit Symphony Orchestra/James Gaffigan
Detroit Orchestra Hall, 3 June 2017
No, not that James Gaffigan. This James Gaffigan is not a comedian of "Hot Pockets" fame, but a dynamic and excitable young maestro who drew the Detroit Symphony season to a rousing close. Aided by the always talented Nicola Benedetti, these two young artists presented a diverse and largely successful program. It's unusual to end a season without an ensemble's Music Director, but after a fine concert under Cristian Măcelaru, the orchestra was in arguably better form for Gaffigan.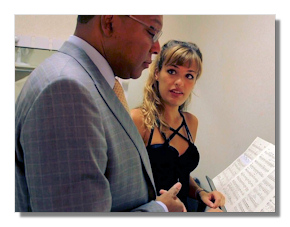 Make no mistake, Benedetti is more than just a pretty face. She's spent time combating this very problem in her young career, but she's a passionate music advocate and a champion of modern music. One of the pieces written for her is Marsalis' Violin Concerto. She played it exceptionally well, exploring the varying moods and flavors of the work. Marsalis – known throughout his career as one equally comfortable in the jazz club and the concert hall – does not rely on a typical "jazz" idiom, but explores many musical traditions that have influenced "fiddle" music in America. And Benedetti – who has been exploring jazz and American music since she was a young girl – played the music in the manner born. There were some truly magical moments, and the piece is wholly worthy of being explored further. The opening movement paired well with Stravinsky's short Circus Polka. The closing movement packed a punch and was great fun. It's also under constant revision, and I encourage Marsalis to consider further trimming the work down. The cadenzas – though stunningly executed – are simply too long. At almost 40 minutes, the concerto strikes me as just a touch lengthy.
Tchaikovsky's Fifth may be an overplayed warhorse, but it may be one of the composer's most difficult works to play well. It can also bog down under its own Romanticism, becoming heavy and bloated. Great Tchaikovsky conductors such as Bernstein and Tilson Thomas have both been tripped up by this symphony on disc, and the concert hall is arguably even more challenging. So, all credit to Gaffigan for a marvelous rendition, with a highly responsive Detroit Symphony in tow. As usual with this band, the strings and winds (who have a lot to do) were spectacular, but again the brass earned their stripes with a terrific effort. The principal soloists were all distinguished, and while the famous horn solo in the slow movement wasn't the most beautiful ever, it was well-phrased. Elsewhere, the brass was strong without turning crude. Gaffigan navigated this work with unforced mastery. I was impressed with his ability to shape the tempo changes in the outer movements in a cohesive way. Combined with a great orchestral response, this was a performance to remember. This was an uneven season in Detroit, but it ended with a bang.
Copyright © 2016, Brian Wigman