CD Review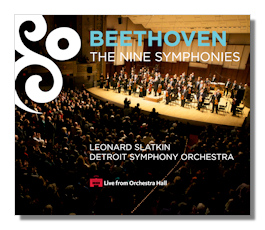 Digital Beethoven Box Set
Joni Henson, soprano
Kelley O'Connor, mezzo-soprano
Vale Rideout, tenor
Jason Grant. bass-baritone
University (of Michigan) Musical Society Choral Union
Detroit Symphony Orchestra/Leonard Slatkin
Digital Download 256kbps MP3 www.dso.org
(Live Recordings)
This fine set, available for download at the Detroit Symphony website, largely confirms my warm praise for the Beethoven Festival that took place at Orchestra Hall in February 2013, but also tempers many of my previous reservations. This is being billed as the first direct-to-digital Beethoven cycle, and that's all for the good as far as I'm concerned. I do wish it had also been released as a physical box set, but it today's market this seemed a reasonable choice, especially since viewers around the world tune in for the orchestra's free webcasts. I had the honor of attending each of the installments presented during the festival, and revisiting the performances was a largely positive experience. With a few exceptions, this cycle effective captures a great orchestra working with a man of boundless musical passion and energy. The results are mostly wonderful.
The First Symphony was better than I remembered. My concert review was warm with reservations about some string passages, but I obviously didn't listen hard enough. The wind playing is simply amazing, aided by the fabled acoustic of Orchestra Hall. Balances are quite good, and while not perfect, my "7" rating, probably bumps up to an "8". The Second Symphony was a performance I liked very much in concert, and it remains so here. Strings are still not always together as far as tone, but the virtuosity is electrifying and Slatkin choses buoyant and energetic tempos that were are very exciting. While embracing modern scholarship, the performances nonetheless have an Old-World charm that never turned heavy.
My reservations about the "Eroica" sadly remain intact. This was the first installment of the festival, and things simply aren't as great as they would become later. Slatkin clearly loves this score, and there are all sorts of nice dynamic touches throughout. The wind playing is still very special, and the strings and brass sound better balanced on the download than previously noted. It's good, but simply not good enough for a top recommendation. I was very enthusiastic about this performance initially, but a second listen reveals a rather lackluster final coda and some tired ensemble. The Fourth, meanwhile, is a gem of the set. Like Karl Böhm before him, Slatkin treats this underrated score as a genuine masterpiece of the canon, to excellent results. By this time in the festival, everyone had seemingly rounded into fine form, and there is simply wonderful playing throughout. A definite highlight, this.
The Fifth, like the Third, left a less favorable impression in retrospect. The opening simply lacks the necessary impact to be competitive, and the following movements, while excellently played, do not rise to the occasion as they must. Herbert Blomstedt also recorded a Fifth with a somewhat subdued first movement, but that was offset by a slow building of tension to create a cogent and convincing whole. This comes close, but not close enough. It must be said that this was excellent live, and only the dearth of other recordings dampens my enthusiasm. The Sixth was masterful live, and I'm thrilled to hear it again. Brisk tempos paint a gorgeous symphonic picture, and each section simply shines (It was Valentine's Day, does that mean anything?) Slatkin simply draws first-class playing from everyone, and this is well worth owning no matter how many cycles you may have. Strings aren't always perfect, but everything else is top notch.
The Seventh and Eighth were two of my least favorite performances live, and I'm happy to report that they sound great in download form. Given the chance to examine Slatkin's choices in the Seventh more carefully, I'm more convinced by his vision than previously. The first movement is wholly exciting and carries the required weight, while the strings and brass sound much more naturally woven into the orchestral fabric than originally thought. As I seemingly mentioned a dozen times in my concert reviews, winds are stellar, but the strings glow here in a way I hadn't noticed before. This is good, really good, and my previous criticisms need to be toned down, if not simply discarded. Perhaps the brass are still a bit ill-mannered, but the interpretative approach I took issue with now seems fully valid. The movements that follow impress for both their forward drive and relentless energy. The Eighth, which also featured on the first evening with the Third, is beautiful. I still think that the best was yet to come in terms of orchestral execution, but my initially positive concert review is far more accurate than my rather tepid response to the performance later on. As with the early symphonies, Slatkin's intelligence as a Haydn conductor – and overall – serves him well here. The playing is superb throughout and the performance is certainly recommendable.
Slatkin has recently received praise for his readings of the epochal Ninth, and it isn't hard to see why. This live performance was culled from four concerts as opposed to two, and so the results are the best that the orchestra has to offer. I was effusive and overwhelmed by the concert performance I attended, and am effusive now. After a measured introduction, the full power of the orchestra is unleashed. Everything that was hinted at in the Third and Fifth and explored in the Sixth and Seventh is revealed here. The first movement surges, the second is masterfully played and explosively delivered, The great adagio is tender and fully of radiance, allowing the improvements in the strings to be fully appreciated. Phrasing is simply marvelous. The finale is also stunning, aided by some very good solo singing (never really a factor in judging anyways), and some tremendous choral work.
What we have here is a great American orchestra taking on the greatest symphonic canon to date. For 24.99, you can stick this on your phone, iPod, or computer, and you should. Finding a supplemental Third and Fifth is easy as pie, and you really need to hear the Second, Fourth, Sixth, Seventh, and Ninth. Sonics are mostly excellent throughout (the Fifth proves worst in this regard), and Slatkin is one of the finest American conductors alive today. I can't think of a better way to support a great institution than this, and all for less than dinner and a movie. If you were there, relieve the memories. If you weren't, make some new ones. This isn't perfect, but it's heartfelt, committed, and something very special. Go for it.
Copyright © 2013, Brian Wigman