CD Review
Universi Populi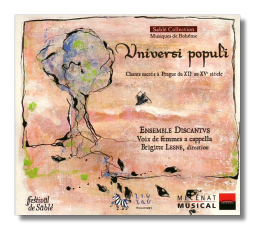 Sacred Chant from Twelfth- to Fifteenth-Century Prague
Cantio: Universi populi simul iam gaudete
Introit: Rorate celi desuper
Troped Anthem: Salve virgo gloriosa
Cantio: Hac nube irrorante
Motet: Natus est/Quem pastores/Huius sit memoria
Troped Benedicamus domino: Festivali melodia te laudamus o Maria
Troped Benedicamus domino: Virga Yesse floruit
Cantio: Nobis est natus hodie de poura virgine
Prose: Salve pater optime
Troped Benedicamus domino: Ad honorem sempiterni regis
Hymn to St. Ludmilla: Lux vera lucis radium
Troped Sanctus: Sanctus – Deus rerum principium
Cantio: Deus omnipotens a morte resurgens
Conductus: Ave virgo virginum
Troped Kyrie: O Deus pater ingenite
Motet: Surrexit Christus/Angelus/Christus/Terra tremuit
Lectio: Sequencia sancti evangelii/In illo tempore
Motet: Nostra iucunda curia/Eya/Unde gaudent angeli
Sanctus: Sanctus
Responsory, Office of St. Wenceslas: Wenceslaus, dux gracie
Responsory & Trope, Office of St. Wenceslas: Castus mente corpore/Preclaris
Prose: Imperatrix angelorum
Cantio: Jesus dulcis mater bona
Anthem: O florens rosa
Cantio: O regina, lux divina
Ensemble Discantus/Brigitte Lesne
Zig-Zag Territoires ZZT060601
This is rare and rarified music of great beauty and regional historical significance. It represents the beginning of a collaboration between the label, Zig-Zag Territoires, and the early music group, Discantus with its director, Brigitte Lesne. It reflects the work of a substantial new research project lead by musicologist Marie-Noël Colette under the auspices of the Institut Français de Prague and the Sablé Festival. The project has unearthed new antiphoners, processionals and tropers from St. George's Basilica in Prague that date from the thirteenth to the fifteenth centuries. It is these which are performed with great style, enthusiasm and sophistication on this excellent (though somewhat hard to track down) CD: persevering in obtaining a copy is worth it; it's lovely music and expertly sung.
After these new chants (nova cantica) emerged – along with early motets – in Aquitaine in the twelfth century, Bohemia, interestingly enough, was among the first lands to adopt their usage. This is explained by the stay Machaut made in Prague in the fourteenth century. Indeed what we hear on Universi Populi is testament to a fairly widespread, though perhaps unrecognized, 'cultural exchange' across Europe in the late middle ages: contact between sovereigns; the Crusades; the reforms of Gregory VII; and substantial migration of farmers and merchants explain this. Perhaps as a result, this music is more florid, more luxuriant and in some ways richer to the modern ear than that of Machaut. More like the world of Hildegard. Indeed, more cosmopolitan, extrovert. It is remarkable that the earliest liturgical manuscript from St. Vitus' (he of the dance) cathedral in Prague contains twelfth-century chants of the Ordinary (Sanctus) which were written in the Limousin and known to have been circulating outside Prague only in France and Catalonia.
This CD uses representative music to trace the developments in the Bohemian liturgy from the twelfth to the fifteenth centuries; most significant was the continuity which obtained once the initial impact of the new chants had been felt: works in honor of Virgin Mary and two patron saints, Ludmilla and Wenceslas, who were responsible for important innovations in Bohemian worship.
There is, though, no sense of the performances on this CD being cultish. Nor are they dry. Discantus (between five and ten women depending on what's right for each piece) presents the music as fresh, but not novel; exciting, but not histrionic; and devotional but not excluding. There is the same kind of ecstasy (in Castus mente corpore/Preclaris, for example) as one expects from Hildegard. But the singing is a trifle more subdued, and appropriately so. If you enjoy early a cappella singing (though minimum tuned percussion is used in places) performed to a high standard, a very high standard, and of considerable historical significance, then you should certainly look into this CD. Its booklet is clear and informative, written mainly by Colette; and you get the full texts. The recording itself is excellent, having been made in the beautiful twelfth-century Cistercian Abbaye de Sylvanès between Montpellier and Toulouse. It's not a collection obviously devised to convey holiness or accentuate the innovation (or conservatism) of any one composer; nor really to act as exemplum for the local musical changes described. Yes, it's of its own kind. But the delivery by Discantus was clearly designed – and equally clearly emerges – as a delightful, flowing recital. Recommended.
Copyright © 2007, Mark Sealey