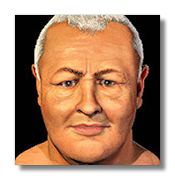 Experts "Rebuild" Bach's Face
The face of Johann Sebastian Bach has been recreated by experts at Dundee University more than 250 years after the German composer's death. It is believed that only one portrait he sat for still exists.
However, forensic artists at the university built up a picture of his appearance using a bronze cast of his skull and documents from the time.
The face will go on display at the Bachhaus museum in Bach's hometown of Eisenach next month.
Read more about this at the BBC website:
http://news.bbc.co.uk/2/hi/uk_news/scotland/tayside_and_central/7270795.stm