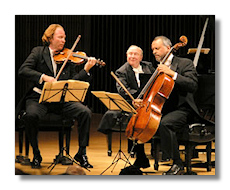 Pressler Bids Adieu To Beaux Arts Trio
By Tom Huizenga

If they had an Olympic medal for "Long-Distance Chamber Music," the gold would surely go to the Beaux Arts Trio. After a 53-year run, the ensemble – made up of one piano, one violin and one cello – takes the stage Thursday night at the Tanglewood Music Festival in Massachusetts, to give its final U.S. performance before calling it quits.
There is something Olympian about the Beaux Arts Trio. The group performed at the 1988 Summer Olympics in Seoul, South Korea, just one of thousands of venues the ensemble has played during the last five decades.
It's fitting that the Beaux Arts Trio is returning to Tanglewood, because that's where it all began. The group gave its first public concert there on July 13, 1955. And for 53 years, one member of the Trio has remained constant: pianist Menahem Pressler. He's 84 now, but he still vividly recalls how that first concert launched a career for three separate musicians who quickly grew into a single musical unit.
Read more about this at the NPR website:
http://www.npr.org/templates/story/story.php?storyId=93734452