Silk Road Ensemble with Yo-Yo Ma to Embark on a Six-city North American Tour as Part of the Silk Road Project's 10th-Anniversary Celebration
Program to Feature North American Premiere of a Multimedia Performance of Classic Arabian Love Story Layla and Majnun
As it celebrates ten years of connecting the world's neighborhoods, the Silk Road Project will present the North American tour of the Silk Road Ensemble with Yo-Yo Ma from March 6-20, 2009, with concerts in Providence, RI; Boston, MA; North Bethesda, MD; Ann Arbor, MI; Minneapolis, MN; and Toronto, Ontario. The Silk Road Project, a not-for-profit artistic, cultural and educational organization, was founded by renowned cellist Yo-Yo Ma in 1998 as a catalyst to promote innovation and learning through the arts.
"During the past ten years, the Silk Road Ensemble has explored connections from ancient times to the present, joining beloved traditions with new knowledge and innovation," commented Yo-Yo Ma. "As we celebrate the Silk Road Project's 10th anniversary, we look forward to sharing with North American audiences some of the wonderful music that has resulted from our exploration of cultural intersections."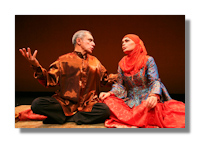 The virtuoso musicians of the Silk Road Ensemble, with Yo-Yo Ma, will perform two programs during the six-city tour, each reflecting the diversity of the artists' backgrounds and the cultures of the countries linked by the historical Silk Road. The repertoire will include traditional music arranged by and for members of the Ensemble, as well as newly commissioned works, many of which combine non-Western and Western instruments to create a unique genre that transcends customary musical classification.
Read more about this at the Silk Road Project website: