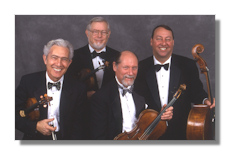 Guarneri String Quartet call it quits after 45 charismatic years
By Mark Stryker


Considering that the Guarneri String Quartet formed casually one day after lunch in 1963 at the Marlboro Festival in Vermont, it's not surprising that the quartet decided to call it quits backstage right before a concert in May 2007.
The group's first violinist, Arnold Steinhardt, suggested the idea and details were finalized in about five minutes. "Somebody had to act as catalyst," says violist Michael Tree. "But it was unconsciously in the wind around us."
The Guarneri String Quartet, one of the most distinguished names in classical music, is retiring after 45 years, a remarkable run made even more majestic by the fact that it had just one personnel change in its history. As Steinhardt notes, the three founding members are all in their 70s and playing a string instrument doesn't get any easier with age.
"We started with a one-year plan and we've had a one-year plan every year for 45 years. It was time."
Read more about this at the Detroit Free Press website: