Book Review
Dark Midnight When I Rise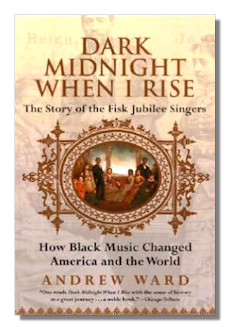 The Story of the Jubilee Singers Who
Introduced the World to the Music of Black America
Andrew Ward
Farrar, Straus and Giroux. 2000.
483 pp., incl. index ISBN-10: 0060934824
ISBN-13: 978-0060934828
Summary for the Busy Executive: Soul-stirring.
For me, the African-American Spiritual easily counts as one of the supreme artistic achievements of Western culture. Indeed, I don't know of any body of song that rivals its power. Sure, Mahler's all very well – excellent, in fact – but a Spiritual gets to its point quicker and more economically than anything in, say, Das Lied, with, I'd say, little loss of power. Truthfully, I wouldn't want to do without either, but the time is long past due to admire these gems without condescension or qualification.
These songs could well have been lost. Blacks either were shy to sing them before Whites or considered them reminders of a recent past they would have sooner forgotten. We owe their preservation and their dissemination in the culture at large to the financial troubles of Fisk University, Nashville, Tennessee. Founded mainly by Northern Congregationalists and Abolitionists to educate the freed slaves, its survival has always been tenuous, to this day, unfortunately. A white member of the faculty, George White (appropriately enough), who had heard these songs, usually sung by students in their rooms, decided to train a group of singers and send them on a fund-raising tour. He must have been some trainer, for the group eventually received raves from even German critics, who considered their own school of choral singing supreme.
Andrew Ward gives us a rich history of the troupe, in its various incarnations. He concentrates on the history rather than on the music, since he claims he's no musician. However, he also lets slip that he encountered the Spirituals mainly as a choral singer, so he's a bit hard on himself. Ward's personal history of Spirituals is also largely mine, and since we're roughly the same age, we thus share many of the same attitudes, both toward the music and toward its historical context.
He begins with slavery, recounting the experiences of some of the singers themselves and their parents. To those revisionists who have tried to paint a rosy picture of the "peculiar institution" (and they've kept springing up ever since the South lost the war), this history stands as a sharp rebuke. I found it rough going to get through all the outrages, but I did read every word. He then moves to Reconstruction, where schools for freedmen were burned by angry Whites so often, no insurance company would issue a policy for the schools left. The election of Hayes killed Reconstruction and fostered the institutionalized racism of the latter part of the Nineteenth Century. In such a climate, the Jubilees set forth to raise money for a sorely-needed building.
The Fisk faculty and its "parent" organization, the American Missionary Association, were by no means one-hundred percent behind the project. George White's stubbornness and the Jubes' (as they nicknamed themselves) resolve drove them on. They made many mistakes early, mainly regarding bookings and advance work. At first, they made so little money, they couldn't afford decent winter clothes. Accommodations also presented a problem, since many hotels wouldn't let Blacks register. A decent take in one venue would get eaten up by small houses and small donations in others. White, however, convinced himself that if they could get to New York, they would succeed. They did make it, stupendously. They raised the money to build the new hall. From then on, both Fisk and the AMA began to look upon the troupe as a cash cow.
In roughly eight years, the Fisk troupe made a total of three tours, two of which included Europe. However, the economic depressions that plagued the period began to tell. Contributions to the AMA dried up. Meanwhile, the Jubilees continued to draw large crowds. The AMA began to "divert" the money intended for the Fisk building to its operating expenses and, along with Fisk itself, began demanding the singers do more concerts. The schedule punished the health of the troupe. Several became seriously ill. Fisk sent replacements. When finally White could take no more, he demanded a rest and was ousted as the troupe leader and manager. The President of Fisk took over. Finally, the singers themselves rebelled, although not after he scolded them for their "selfishness," although they had worn themselves out. No one is so hard as a person determined to do good.
Nevertheless, there were other tours. Several of the Fisk singers formed their own successful troupes, and of course they generated a host of inferior imitators. However, their discipline and training made them stand out. They were known not only for their ringing tone and clear diction, but also for their pianissimos – one of the hardest things for a vocal ensemble to bring off – a feature of their signature hymn, "Steal Away." You don't get a good pianissimo by merely singing softer or more weakly, but by instilling the sound with intensity, even at the lowest dynamic, and retaining the clarity of the words. It takes fierce concentration.
After their European experiences, when royalty had feted them and the only instances of prejudice came from Americans abroad, the normal slights of daily American life became less tolerable. They would pay for first-class railway passage, only to have conductors herd them to the smoking car. Where the nobility of England and the Continent had put them up and sought their company, the proprietors of podunk hotels kept them out. However, the Jubes didn't take this unanswered. During their concerts, one of them would inform the audience of the indignities suffered in its very own town, thus creating an outcry. The Jubes originally aimed not only to raise money, but to spread the Gospel, and they wound up as a cultural force for Black civil rights. Of course, one group of singers had less power than Plessy v. Ferguson and couldn't stem rising and insidious racism in both the North and South, but they did make some Whites see Blacks as educated, smart, and, at the least, respectable.
Ward provides superb character studies of the singers, as well as of the principal figures in their lives. The company ranged from near-saints to divas (of both sexes). The singers' own words reveal them as sharp observers, often funny, and, in some cases, noble souls. Ward's own prose is rich and wonderful. The book's title in particular struck me. It's taken from two phrases from two distinct stanzas in the Spiritual "Give Me Jesus" – "Dark midnight was my cry" and "In the morning when I rise." Ward brilliantly joins them into a small poem worthy of the Spirituals themselves. The notes and index are all they should be. Although you will find little about the music itself, you will get some idea of the Spirituals' ability to reach the heart.
Copyright © 2013 by Steve Schwartz.