Book Review
Irving Berlin's American Musical Theater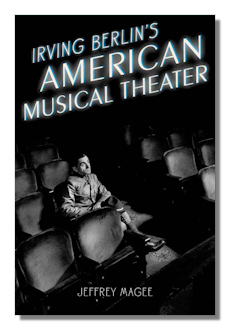 Jeffrey Magee
Oxford University Press. 2012.
408 pp., incl. index
ISBN-10: 0195398262
ISBN-13: 978-0195398267
Summary for the Busy Executive: End man.
Irving Berlin's Broadway career began in the age of Victor Herbert and George M. Cohan. It ended with the likes of Rodgers & Hammerstein, Leonard Bernstein, and Stephen Sondheim. Yet, despite the truckload of classic songs Berlin wrote, from the ragtime era to well into rock and roll, we don't really think of him as a writer of shows, with the exception of Annie Get Your Gun. This blindness stems from an historical theory of the Broadway musical overly-impressed by the advent of Oklahoma!, wherein the American musical lay in darkness until Showboat and then lapsed into darkness again until Rodgers and Hammerstein rescued it and made it a matter of legitimate theater. Such a view ignores quite a bit and reflects a basic critical error, mistaking genre for worth. After all, a good song is aesthetically better than a bad symphony or opera. A good revue is better than Les Miz. So there. Fortunately, academic scholars now pay attention to the American musical theater since around the 1890s, and the old view has started to give way to a truer one at last.
After leaving home and working a series of hardscrabble jobs, Berlin became a singing waiter. Among his co-workers was the then-silent piano player Jimmy Durante. An acute judge of both talent and the audience, Berlin encouraged Durante to talk during his act. "I don't know, Irving," Durante replied. "People might laugh at me." Berlin first trod the boards in vaudeville as a moderately popular singer, specializing in parodies. He also wrote songs, at first in collaboration with others, then all by himself, music and lyrics. He hit all the popular types of the day: the sentimental ballad, particularly the waltz, the ragtime song, the national or dialect song, like his first effort, "Marie from Sunny Italy."
Broadway musical shows at that time consisted of three main genres: operetta (American equivalents of Johann Strauss II and Gilbert & Sullivan); revues; what Magee calls "legitimate vaudeville." Revues collected miscellaneous songs and sketches, really an evening of vaudeville. "Legitimate vaudeville" may have had coherent plots, but it emphasized star performers rather than drama, like the shows of Cohan and Jolson. Like most Broadway songwriters, Berlin entered the field with individual songs interpolated into reviews, along with songs by others. However, especially after the super-success of "Alexander's Ragtime Band," he very quickly took advantage by insisting that he be sole musical provider. Berlin very quickly revolutionized both the aesthetic and the business end of things. He formed both his own publishing house as the exclusive distributor of his music and, in partnership with first Charles Dillingham and later Sam Harris (Cohan's former partner), his own production company. He became very rich indeed. He was a major force in the founding of ASCAP. He constructed a Broadway theater, the Music Box, for his Broadway ventures, although here, wisely ecumenical, he also booked shows by others, which kept the theater from becoming a financial drain. Such a rise from such mean circumstances (Berlin was a poor street kid in a rough part of town; show business was his escape) led to conflicting aesthetics. On the one hand, he appealed to the public for the worth (and the compensation) of his output. When asked for his favorite Berlin songs, he always named his highest money-making hits. Yet, he constantly and brilliantly innovated in musical expression and in the writing of lyrics – quite the opposite of the hack.
With near-total control, Berlin began to help reshape the revue, insisting on greater thematic coherence and bringing in complex larger structures (act "finalettos" and such), as well as a wide range of musical reference, from ragtime (and, later, swing) to opera (usually parodying the popular ones). Magee delineates these in great and telling detail. Revue attracted Berlin throughout his career for many reasons, important among which was his conception of the show as having something for everybody. If he saw the crowd as the final arbiter, he wanted to get as any inside the tent as possible by having the revue appeal to many different tastes.
At least one surprising element remained fairly constant in Berlin's theater work at least through Call Me Madam in the Fifties – the minstrel show, believe it or not. Minstrelsy has more than deserved the scorn heaped upon it for its racism, but apparently Berlin's attitude was more complicated. I'm sure Berlin didn't despise Blacks (he used too much from their music) any more than he despised Italians. The Black stereotype fit all too smoothly into the gallery of Italian, German, Jewish, and Irish stereotypes that filled vaudeville and revue. At least at some point in his 100-plus years, he accepted these things as valid sources of humor. But Berlin changed the meaning of minstrelsy even as he appropriated it and turned it into something else. Berlin also looked at blackface as something transformative. To him, the Black was a fellow outsider to the Jew. Somehow, whites and blacks in blackface became more "American" – as important to Jewish immigrants as to Blacks. These were the real Americans, accepting the single most important defining contribution of our culture and, by implication, those who made it. The song "Mandy," for example, originally began as a blackface number way back when and ended up as a generic soft-shoe number for the visually Caucasian Bing Crosby, Rosemary Clooney, and Danny Kaye in White Christmas. The figure of the "end man," the wiseacre who gets his own back from the pompous Mr. Interloculator, runs throughout Berlin's work to Annie Oakley and Sally Adams – two raw women who on the one hand show up self-importance and on the other learn to negotiate the new, unfamiliar societies in which they have found themselves – country girl Annie and the Sioux Indians into show business, and American ambassador Sally Adams ("The Hostess with the Mostes'") into the duchy of Lichtenberg.
Berlin's racial attitudes may well have progressed further during the Twenties and Thirties, reflected especially in one of his greatest songs (although it wasn't a smashing hit like "Top Hat"), "Supper Time." Now known mainly as a torch number, "Supper Time" is sung by a woman whose "man … won't be comin' round" any more. In its original context in the revue As Thousands Cheer and sung by Ethel Waters, it followed a newspaper headline about a Black lynched in the South. Although the lyric never directly mentions the cause of the man's absence – one reason for its considerable power – clearly he won't return home because he's dead, and furthermore dead from a horrifying, barbarous act. Incidentally, several critics called for the removal of that number from the show on the grounds of "incongruity," but Berlin had seen its effect on the audience and refused.
I should also mention that Berlin's insistence on control led to the raising of revue standards. He collaborated with the theater elite of the time, like George S. Kaufman, Moss Hart, Dorothy Fields, Rodgers and Hammerstein (they produced Annie Get Your Gun, and Howard Lindsay and Russell Crouse. Although the shows themselves have become ghosts, the music remains vital and still sung. Berlin had a horror of "special material," which he tended to regard as dross. He wanted to place the best song he could in every slot, and for him the best song could live outside the show (more royalties, for one thing). This applied to the "integrated" show as well. As long as the song fit the mood, Berlin didn't hesitate to place it. At least some of the numbers in Annie and Madam he had composed decades before.
Magee has written a scholarly, thorough book, filled with close analysis, both musical and dramatic. He earns his judgments. My history is his. Furthermore, the book's apparatus – the notes and index – are first-rate. The general reader (or this one, anyhow) will not breeze through its pages. Magee doesn't "chat." However, Magee definitely rewards persistence.
Copyright © 2013 by Steve Schwartz.