Book Review
The First Four Notes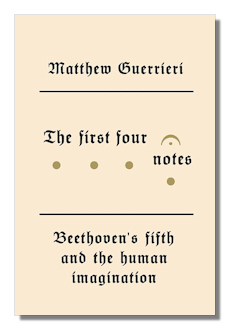 Beethoven's Fifth and the Human Imagination
Matthew Guerrieri
Knopf, 2012. 359 pages
Notes, selective discography, bibliography and index
ISBN-10: 0307593282
ISBN-13: 978-0307593283
A study of cultural history more than a book strictly about music, Guerrieri does write about the opening bar – or two – of Beethoven's C Minor Symphony in musical terms, and in an interesting way. For instance, he relates that a young music student who had the impulse to write the opening notes in sand on a beach was given an impromptu music lesson by an older gentleman who, stopped, examined what he saw, and rubbed it out with his foot, and noted that the student had mistakenly written triplets, in omiting the eighth note rest which opens the piece. The student later learned that it was the composer Ernest Bloch who had made this observation. Guerrieri, who is music critic of the Boston Globe, also writes about the difficulties of conducting an initial rest.
Beethoven's student and assistant Anton Schindler (who published his biography of Beethoven in 1840, the reliability of which Guerrieri questions) is our source for Beethoven's reported remark that the opening notes of the Fifth represent "fate knocking on the door." This leads to a discussion of fate in other remarks by Beethoven and others An anecdote about Schindler concerns a concert in an old stone building in Frankfurt. It was so damp that it affected the wooden wind instruments enough to require retuning the whole orchestra. Schindler, later asked why he walked out of the ensuing performance of Beethoven's Fifth, responded, "I don't want to hear Beethoven's C Minor Symphony performed in B Minor!"
E.T.A. Hoffmann, whose stories would inspire Schumann and Offenbach, seized on Beethoven's Fifth as an inspiration for Romantics, during Beethoven's lifetime. A later author who put Beethoven's Fifth into a novel was E.M. Forster, whose Howard's End begins with a performance of the symphony. One of Beethoven's later sonatas is significant in the same author's A Room With a View. Guerrieri discusses both novels at length.
Guerrieri has a surprisingly keen interest in 19th century German philosophy, from Kant to Nietzsche, including Hegel, Marx and Engels, as well as – closer to our time – Adorno. He also writes about the New England Transcendentalists and Ives' Concord Sonata. All of these had a Beethoven connection, as did the musical analyst Heinrich Schenker, whose generally suppressed political views do not go unmentioned.
Much of this wanders far from the initial four notes of the symphony, but Guerrieri returns to these late in the book, lingering on the Morse Code three dots and a dash – standing for the letter "V" – a code for Victory on the part of the Western allies during World War II. Guerrieri points out Martin Luther King's "I have a dream" has three short and one emphasized long syllable; and that King mentioned Beethoven as a standard of excellence in speeches. In the late 20th century, popular songs and cell phone ring tones made much use of the famous four notes.
A personal confession: I was as attracted, in a Barnes & Noble bookstore, by the handsome physical qualities of this carefully produced Knopf volume as by its title. Happily, I found it pleasurable and informative to follow the intellectual wanderings of this learned – if perhaps a bit self-indulgent – author. For one of his self-revelations, the reader should not fail to read his acknowledgements, which include a tribute to the love of his life which approaches the sublime.
Copyright © 2013, R. James Tobin