Book Review
The Ellington Century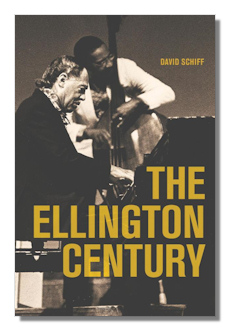 David Schiff
University of California Press. 2012.
319 pp. ISBN-10: 0520245873
ISBN-13: 978-0520245877
Summary for the Busy Executive: A book we have needed for a long time.
While he lived, Edward Kennedy "Duke" Ellington split the musical community pretty much into long-hairs and jazzers. The latter mostly recognized him as the leading swing band figure. I would have said "leader," but that doesn't begin to account for his position as composer and songwriter. Others may have played bluesier or hotter, but none consistently innovated at such a high level. The classical crowd either ignored him or enjoyed him without knowing much of anything about his aims or techniques. One can find exceptions in Gunther Schuller's massive study of the Swing Era or in Constant Lambert's essays, for instance. On the other hand, even jazz critics often had no idea what Ellington did. James Lincoln Collier's Duke Ellington, for example, excoriated Ellington as a parasite "with no discernable musical gifts." He scorned the larger works and in general blamed Ellington for being neither Louis Armstrong nor Count Basie. To this day, Ellington inhabits a limbo, sometimes honored and seldom understood.
Ellington described himself – accurately and without false modesty, in my opinion – as "beyond category." His output, unprecedentedly large and filled with work much greater in scope than most jazz nevertheless apparently isolated him from the classical music of the time.
David Schiff has written a milestone of criticism. One of the best American composers now writing (and not only American), Schiff has analyzed Ellington in detail. Unlike most books on jazz, it contains little handwaving – few appeals to vague concepts of "swing," "soul," "blackness," and so on. Instead, he breaks down Ellington's music into chapters on color, rhythm, melody (rare enough in discussions of any music, including classical), and harmony. He also tackles major strains in Ellington's output: love, black history, and the sacred. Furthermore, he intelligently considers the issue of Ellington's collaborations, especially with Billy Strayhorn. In the last case, he also manages to distinguish the styles of both. However, the truly revolutionary nature of the book is revealed in Schiff's replacement of Debussy, Stravinsky, Schoenberg with Ravel, Bartók, and Ellington as the most influential composers of the Modernist era. He makes a very convincing case. Although I don't entirely agree, I do appreciate his elevation of Ellington to the highest levels of Modernism.
Most important, Schiff doesn't consider Ellington as an inhabitant of a jazz ghetto, but as part of Modernism in general. This is Schiff's greatest innovation, as far as I'm concerned. He finds the links between Ellington and Debussy, Ellington and Bartók, Ellington and Berg, and other Modern giants. The book contains long analyses of such things as Black, Brown, and Beige and Such Sweet Thunder, all aimed at showing Ellington's craft and conscious decision-making as to artistic and expressive goals.
Schiff writes a very readable prose, while laying out complex arguments. About the only trouble people may experience comes in the chapter about harmony, which does rely on a basic knowledge of chord analysis. He also includes examples in musical type. However, one can still appreciate his larger points, minus these details. I learned quite a bit from his treatment of jazz harmony. All sorts of puzzling details about chord construction by Ellington (and even by Gershwin), which seemed to me black magic before, fell into place.
A book of deep understanding, critical acumen, and intellectual history. These don't come along every day.
Copyright © 2013 by Steve Schwartz.