Book Review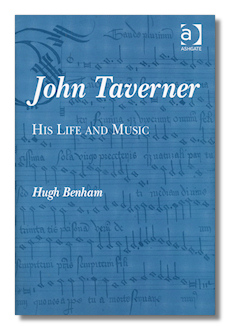 His Life and Music
Hugh Benham
Aldershot: Ashgate. 2003. 332 pp
ISBN-10: 0754601420
ISBN-13: 978-0754601425
Despite his standing as the most prominent composer in England between John Dunstaple (c.1390-1453) and Thomas Tallis (c.1505-1585), John Taverner (?1490s-1545) has not received the attention which his music and influence on subsequent composers suggest he should. David Josephson published John Taverner, Tudor Composer in the UMI Research Press "Studies in musicology" series in 1979 (available through the Books On Demand® program). Then Colin Hand's much shorter John Taverner: His Life and Music was published three years later. So it's been over a quarter of a century since Taverner's life, music and musical and creative context have been reassessed. And a scholarly reassessment was certainly needed in the light of the many and significant advances made in our understanding and appreciation of "early" music since the late 1970s.
It can be safely said that High Benham has done an excellent job. The present title is likely to stand way ahead of those earlier dissertations and monographs in terms of content, presentation, breadth and depth. This book must now be considered the standard scholarly work on Taverner; it is thoroughly recommended.
We know next to nothing about either the life of Taverner or the order in which he wrote his fewer than three dozen compositions. We do know that he was born and worked for much of his life in Lincolnshire; and that his time at Cardinal College (now Christ Church) Oxford probably came to an end on the fall of Cardinal Thomas Woolsey in 1529. We know that he was an accomplished and highly respected musician, whose performing skills and ability to teach and inspire those with whom he worked were more prized than his role as composer, which is not uncommon before the Romantic period. We can also safely assume that – although he did live beyond the onset of the Reformation – he did not face the anguish and divided loyalties of those Catholic composers like Tallis, Byrd and Peter Philips in Protestant times, or Protestants when the state religion reverted briefly to Catholicism under Mary Tudor. So much of what Benham writes is necessarily – and deftly – qualified by "may" and "probably", "possibly" and "likely" etc. We have, for example, no original manuscript of Taverner's. Yet Benham's style and authority, the sound interpretation which he brings to support his conjectures and the rigorously catalogued and cross-referenced primary data he presents quickly convince us that we are in good hands. After all Benham is the successful and respected editor himself of Taverner's complete works.
Although John Taverner, His Life and Music appears only to have one chapter, a mere 14 pages or so out of 300 devoted specifically to the life of the great composer, in fact the book is so holistically conceived and skillfully written that relevant details of Taverner's biography and progression as an artist are fully integrated throughout the rest of the book. More, the dozen or so tables, musical extracts – and indeed appendices – that support Benham's portrait of Taverner do indeed add color, richness and depth such that one can use the book as both narrative and reference.
In addition to the brief biography just mentioned, John Taverner, His Life and Music examines the sources of his music, the background of worship and contemporary musical traditions as well as a brief look at performance issues as they affect modern performers (there is a discography, which is necessarily more of a starting point than an up-to-date set of recommendations). Benham then devotes the bulk of the book – seven chapters or over two thirds of the text – to in depth examinations of Taverner's musical style and technique, examining work by work. It is through this that so much of Taverner's preoccupations, strengths and priorities as a person emerge. Significantly, Benham adduces evidence that Taverner did not remain so politically and religiously neutral as has been thought: he was involved in more than one intrigue and seems to have taken sides in those "stratagems and spoils" which affected most active members of the upper classes at that turbulent time in ways we have until now thought he did not.
Just as significant is the picture Benham paints of Taverner's musical influence on his immediate successors – Byrd in particular. This becomes easier to follow (and results in a more effective treatment) thanks to Benham's choice methodically to survey Taverner's music grouped by genre. In exemplary style, each piece is first set in context; its text discussed; then precursor compositions are referred to; lastly there is an extensive and exhaustive musical analysis. Much attention is given to Taverner's Gaude plurimum, a central work fully deserving of close dissection – and which would benefit from more than the three recordings in the current catalog, of which that by The Sixteen under Christophers ( Helios 55051) is probably the best.
It should be noted that Benham unapologetically adopts post-Renaissance musical models and terminology ("major/minor" tonality, "cadences" and hierarchies) to describe Taverner's music – ostensibly in the interests of helping those readers and listeners more familiar with Baroque and Classical styles situate themselves in what Benham himself describes as "an amorphous harmonic world". Such an approach in general has attracted criticism in "early" music circles. And one wonders just how many of those likely to be drawn to Taverner and his music may still do so from an essentially modern perspective. To be aware that there is, to Benham, good reason to talk about a work of Taverner's being in G minor ought to be not to allow this approach to be intrusive. The fact is that John Taverner, His Life and Music is an excellent book, well-researched, meticulously-assembled, with ample apposite musical examples, judiciously presented discussion of biographical, social and cultural issues and with the authority few others could claim.
This book, then, is likely to be the standard for some time to come and can be unhesitatingly recommended for anyone interested in Taverner in particular and Renaissance choral music in general. At not much under $100, even used, it is expensive. But for scope and depth this is a small price to pay given the importance of Taverner and the high standard of scholarship which Benham wears so lightly.
Copyright © 2008, Mark Sealey