Book Review
Benjamin Britten and Samuel Barber: Their Lives and Their Music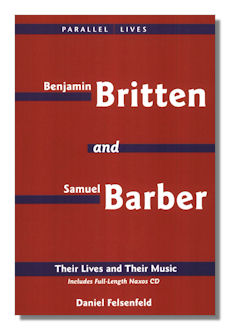 Daniel Felsenfeld
Pompton Plains, NJ: Amadeus Press. 2005. 180 pages.
ISBN-10: 1574671081
ISBN-13: 978-1574671087
Summary for the Busy Executive: Quite good, for what it is.
This is the second book in a series from Amadeus Press called "Parallel Lives." The first concerned Charles Ives and Aaron Copland. Each of these volumes comes with a CD compiled from Naxos recordings, so that you can actually hear the works the authors discuss.
Felsenfeld has written an "up close with gun and camera" approach to the lives and works of Britten and Barber. Obviously, the output of both would provide material for many, many books considerably longer than the one here. I'm not quite sure why these lives are parallel. Certainly their music isn't all that much alike. Nevertheless, Felsenfeld has come up with a snappy introduction. It's a hard job to come up with something reasonably intelligent for the new listener. The CD, of course, helps. If nothing else, the music has a chance to hook the listener all on its own if the explications don't work out. In the main, I think Felsenfeld comes up with something creditable.
This doesn't mean, of course, that I can't complain about this and that in the book. Felsenfeld gives a lot of space to the fact that both Britten and Barber were gay. But gay isn't monolithic. There are as many different homosexuals as there are heterosexuals. To me, the drives behind the two composers differ significantly. Britten had an attraction for boys, although it's unclear that he ever had sex with them. He was so closed-mouthed that it's hard to know whom he did have sex with, aside from Peter Pears and W.H. Auden, neither of them kids at the time. The many Britten works that feature boy trebles in general use them as symbols of innocence, often innocence betrayed by social forms and norms. Furthermore, it doesn't take much to see Britten's well-known penchant for depicting the isolated and the outsider a translation of his position as a homosexual in England, where for much of the composer's life, it was punishable by serious jail time.
Barber, on the other hand, although a gay man and equally close-mouthed, didn't seem to bring his sexual orientation into his work – not even in the late cantata, The Lovers. His long-time partner, Gian Carlo Menotti, didn't either. However, Barber was even more private than Britten. We know less about his life. He had fewer close friends and musical colleagues, and those few have kept their mouths mostly shut.
Far more important to me is the work. I seriously disagree with Felsenfeld's dismissal of Barber's Antony and Cleopatra, which flopped in its high-profile premiere at the Met. Felsenfeld seems, like the critics, to equate the public failure with Barber's score. However, the recording of the work from New World (NW322/23/24-2) makes it very plain that Antony is one of the composer's masterpieces, eminently revivable, even in a standard opera house like the Met or Covent Garden. However, admittedly it must still overcome the stink of the notorious flopperoo. Felsenfeld is far more generous toward Britten's similarly failed Gloriana, another misunderstood masterpiece.
Nevertheless, Felsenfeld gives some good general advice for listening. His descriptions of the individual pieces he discusses are clear and accurate, if a little blah, and they give the listener insight into how the composer put the piece together. If you are new to Britten, Barber, modern music, or classical music in general, I recommend this book.
Copyright © 2010 by Steve Schwartz.