Book Review
Lennox Berkeley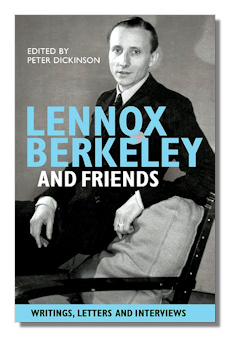 Lennox Berkeley and Friends
Writings, Letters and Interviews
Edited by Peter Dickinson
Boydell Press, 2012. 315 pages
Illustrations
ISBN-10: 1843837854
ISBN-13: 978-1843837855

The Music of Lennox Berkeley
Peter Dickinson
Boydell Press, 1988, 2003, 222 pages
Second, revised edition. Acid-free paper. Illustrations
ISBN-10: 0851159362
ISBN-13: 978-0851159362
The music of the English composer Lennox Berkeley (1903-1989) is not well known in the U.S., although much of it is available in recordings by Chandos, Lyrita and other labels. In Britain it has long been highly regarded, however, and I can strongly recommend making its acquaintance. He wrote four symphonies; concertos for piano, violin, cello, and guitar with orchestra; some operas, piano music, songs and chamber music. Some of this was commissioned by famous soloists. Its style was generally tonal. In later work he used more dissonance than earlier, and even used some serialist techniques, without abandoning all tonality. He began as a neoclassicist, influenced by Nadia Boulanger, with whom he studied for five or six years, and for whom he had a lifetime admiration. He was also influenced by Benjamin Britten, whose close friend he was, especially in the 1930's, after meeting him at an event in Barcelona, and with Britten he wrote half of a four-movement orchestral suite based on Spanish folk-songs featured in a dance program there, in which the efforts of each are indistinguishable. Britten encouraged Berkeley to loosen Boulanger's influence to become more of himself. Other composers Berkeley admired were Mozart and Verdi.
Together, these two books put together by Peter Dickinson, a fine composer, pianist, and scholar of American music (see my other reviews on this site) constitute quite a substantial life-and-works of Berkeley. Although neither is a formal biography, both of them contain quite a lot about him as a person. After reading the new volume I feel I almost knew the man.
Lennox Berkeley and Friends begins with Berkeley's concert reviews of Paris performances, written for publication in England (1929-1933) followed by letters (1929-1974) to Nadia Boulanger. Twenty three selections of Berkeley's other writings, on French and British music of his time, in general, and specifically music of Britten, Faure, Ravel, Poulenc, Lili Boulanger, and Stravinsky constitute a very substantial portion of the volume. There are excerpts from his diaries, focusing on performances of his and others' music, and there are several interviews, four with Berkeley himself, two of them conducted by Dickinson, and others with Julian Bream, Norman del Mar, Nicholas Maw, his wife and son, and others who were friends or professional colleagues. Berkeley wrote and spoke concisely, forthrightly and with insight about music. He admits to being rather bored with much of the music of Tippett and did not care for that of Vaughan Williams and others of the pastoral school.
The Music of Lennox Berkeley focuses on selected works rather than attempting a comprehensive survey, and includes substantial musical examples from scores. It is certainly readable by non-musicians. I would suggest reading it before the newer book unless the reader is already well acquainted with Berkeley's music. By the way, for the benefit of librarians and other book-purchasers, Lennox Berkeley and Friends particularly, although pricy, is an exceptionally handsome example of book publishing at its best, with heavy, white paper stock and a strong binding.
Both volumes are highly recommended.
Copyright © 2013, R. James Tobin