Related Links
Recommended Links

Site News
Book Review
Thomas Hardy
Winter Words
Poetry and Personal Writings
Read by Bruce Alexander and Janet Maw
Naxos Audiobooks NA219312 2CDs 192m DDD
ISBN 9626341939
The highly erudite mind of Thomas Hardy brought many immortal literary classics to the world including the famous 'Far from the Madding Crowd' and 'Tess of the D'Urbervilles'. This collection is an altogether more personal one and thus retains interest as a picture book of Thomas Hardy, the man and what his feelings really where.
The history of the writer is intertwined between poetry and writings in a very colourful way thus providing the listener with an atmospheric backdrop on the proceedings. Poems such as the characteristic 'Wessex Poems', the nostalgic 'Poems of Childhood and Home' and the classic final statements such as 'The Cemetery', 'Ah, are you digging on my grave?' and the 'In Tenebris' sequences bring us face to face with Hardy the man and all his fears and experiences.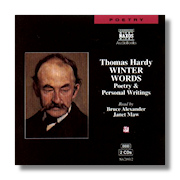 All is succinctly read by Janet Maw and Bruce Alexander with Neville Jason reading the atmospheric backdrops and reminiscences of Hardy's life. Hardy could also serve to be quite an admirable historical recounter as is demonstrated in: 'In Time of the Breaking of Nations' and 'Lines on the Loss of the Titanic'. I could not agree more with Perry Keenylside's closing statement in his note to the booklet: 'There is no emotionality. The emotion seems to inhere in the reality recognized and grasped'. Tovey and Bridge make perfect bedfellows to this richly diverse and rewarding anthology.
Copyright © 2001 by Gerald Fenech