Related Links
Recommended Links

Site News
Audiobook Review
The Classic Sherlock Holmes
Volume 1
The Blackmailer (28:46)
A Scandal In Bohemia (26:58)
Silver Blaze (24:48)
The Speckled Band (25:44)
Sir John Gielgud, Sherlock Holmes
Sir Ralph Richardson, Dr John Watson
Heritage Media HMD26101 ADD mono 1:46:16

Volume 2
The Second Stain (27:13)
The Traitor (27:20)
Rare Disease (27:29)
The Norwood Builder (27:14)
Sir John Gielgud, Sherlock Holmes
Sir Ralph Richardson, Dr John Watson
Heritage Media HMD26102 ADD mono 1:49:16

Volume 3
The Solitary Cyclist (27:54)
The Six Napoleons (27:42)
The Red-Headed League (22:08)
A Case Of Identity (25:06)
Sir John Gielgud, Sherlock Holmes
Sir Ralph Richardson, Dr John Watson
Heritage Media HMD26103 ADD mono 1:42:50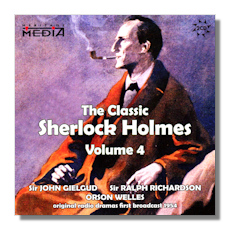 Volume 4
The Final Problem (28:42)
The Empty House (27:58)
The Blue Carbuncle (27:38)
The Yoxley Case (25:33)
Orson Welles
Sir John Gielgud, Sherlock Holmes
Sir Ralph Richardson, Dr John Watson
Heritage Media HMD26104 ADD mono 1:49:51
These four volumes, recorded for broadcast in 1954, are true classic Sherlock Holmes for lovers of these legendary stories by Sir Arthur Conan Doyle. Although they are heavily edited when compared to David Timson's illustrious accounts that are a collector's dream – the unique and inimitable voice of Sir John Gielgud and his equally great sidekick Sir Ralph Richardson as Watson are essential listening.
The sound effects, although crude at times are wonderfully atmospheric as are the equally valid contributions of Val Gielgud as Mycroft Holmes in "The Traitor" and other unnamed female actresses which take those parts so well. Some of my favourite Holmes stories are included here such as "The Second Stain", "Silver Blaze" and "The Speckled Band" all superbly dramatized on all counts.
There are times when the sound is slightly cramped as these are mid 1950's mono recordings but otherwise I have nothing but praise for these issues and a top recommendation is surely in order.
Copyright © 2011, Gerald Fenech