DVD Review
Piano Concertos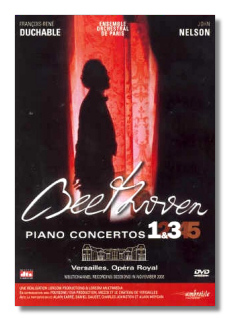 Concerto for Piano #1 in C Major, Op. 15 (1795)
Concerto for Piano #3 in C minor, Op. 37 (1800)
François-René Duchable, piano
Ensemble Orchestral de Paris/John Nelson
Rec. November 2002, Versailles Opera Royal
Ambroisie Interactive AMI 99403002 2DVDs 4:3 PAL DTS 5.1 Dolby Digital 66min + 3h 54m (extras)

Concerto for Piano #2, Op. 19 (1795)
Concerto for Piano #4 in G Major, Op. 58 (1804)
François-René Duchable, piano
Ensemble Orchestral de Paris/John Nelson
Rec. November 2002, Versailles Opera Royal
Ambroisie Interactive AMI 99403003 2DVDs 4:3 PAL DTS 5.1 Dolby Digital 56min + 4h 24m (extras)

Concerto for Piano #5 "Emperor" in E Flat Major, Op. 73 (1809)
François-René Duchable, piano
Ensemble Orchestral de Paris/John Nelson
Rec. November 2002, Versailles Opera Royal
Ambroisie Interactive AMI 99403004 2DVDs 4:3 PAL DTS 5.1 Dolby Digital
Here is a landmark 2004 state-of-the-art DVD release with multiple approach extras. For each of the concertos there is (additionally to the complete performance) one movement with the score to follow, picking out clearly what is important moment to moment, and another which demonstrates the option of a choice of four viewing angles to change at whim. Producer Etienne Collard explains the complicated technology employed. Sound and visuals are exemplary and navigation through the many choices on the menu is easy.
These are excellent performances of the concertos, performed on a Steinway and with a small 'Mannheim' modern instrument orchestra of about 40 players, as Beethoven would have been used to. They are filmed in superb sound at a gorgeous venue; we are given a fascinating tour of Versailles and its opera house. Even if you have recently added to your collections the latest CD version by Aimard/Harnoncourt (DG) you should not hesitate to acquire these DVDs.
François-René Duchable is a fine, insightful Beethoven pianist and the interviews and rehearsal sequences display his boundless energy and enthusiasm, and capacity to communicate in words. Whatever your level of familiarity with these key canonic masterworks, there is a lot to learn and savour.
He demonstrates on a Stein fortepiano alongside the Steinway, discussing his decisions about articulation and dynamics in key passages. The rapport with the conductor John Nelson is palpably close and the rehearsal sequences show how a performance is built. In the lengthy interview contained in the Emperor box (AMI 99403004) he also revieals the downside of the virtuoso pianist's life; he took planned early retirement after making these DVDs at around 50.
You gradually come to feel you know these two very photogenic musicians, who are also natural in manner and good to watch in action, alongside getting to know Beethoven better. Duchable gets carried away with relevant thoughts and can illustrate any idea which comes up instantly at the keyboard. In his talk about Concerto No 2, he tells us that attacca joins to next movements are a great way to stop the audiences coughing "to prove to themselves that they are still alive"! And he gives a fascinating demonstration of his approach to pedalling in the improvisatory passages, switching to a Stein fortepiano to indicate how it might have sounded in contemporary performances.
There are discussions of many thorny topics; their choice of modern instruments, but both however fully stylistically aware and demonstrably at one in a comfortable partnership. This is predominantly a didactic enterprise, but what is good to report is how excellent are these filmed performances without audience – fully competitive with many strong contenders in the CD stakes, and all the better for being able to watch the music being played, that topic another which is discussed. I felt that the orchestra might have wished to applaud, as no-one else was present to represent us, the invisible audience!
Answering "Fifteen questions for François-René Duchable", a 'consciously visual artist' in his prime, we get to know about his early life and training – in 1968 he was a prize winner in the presitigious Queen Elizabeth Competition in Brussels – and his eventual disillusionment. We see him at home demonstrating on his huge collection of historic pianos, get to understand how he feels and thinks at the peak of a lonely, ultimately unsatisfying career, and we learn, to our incredulity, that he had chosen to relinquish the treadmill life of a concert pianist in 2003 and had in fact ended his career as a public artist with this set of DVDs! François-René Duchable plans a new and different future for himself, devoting some years to different interests and pursuits, including working with music in social fields with'ordinary people' in schools and prisons, deploring the reality that classical music reaches and 'speaks to' so tiny a minority of the population. He does not rule out a possible return to the concert world, perhaps say at 65! We must all hope that he will be persuaded to change his mind.
Excellent though numerous CDs of the concertos be, none of them holds a candle to the total effect and extensive learning opportunities which Duchable, Nelson and originator Christian Girardin's technical team bring to achieving this wonderful audio-visual Beethoven project.
Copyright © 2004, Peter Grahame Woolf