CD Review
Carnetz Secretz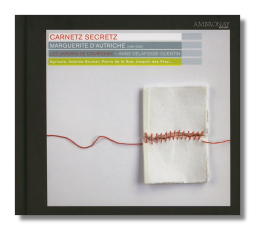 Music from the time of Margaret of Austria (1480-1530)
Antoine Brumel (c.1460-1512/3): Tous les regretz
Pierre de La Rue (c.1460-1518):
Apres regretz il faut se resjour
Ce n'est pas jeu d'être si fortunée
Il est bienheureux qui est quitte
J'ay mis mon cueur en ung lieu seulement
C'est ma fortune, envi le dis
Tous nobles cuers
Cueurs desolez
Dies illa
Pour ung jamais ung regret me demeure
Secretz regretz
Alexandre Agricola (1446?-1506): De tout bien playne
Josquin Desprez (c.1450-1521): Plus nulz regretz
Mathhaeus Pipelare (c.1450-1515): Fors seulement l'attente que je meurs
Loyset Compère (c.1450-1515): Va-t'ens, regret
Anonymous:
La franchoise nouvelle
La ravestain/Proch dolor
Pie Jesu
Les Jardins de Courtoisie
Ambronay AMY007
Margaret of Austria lived from 1480 to 1530 at a time of rapid artistic change throughout Europe. The granddaughter of the last prominent duke of Burgundy, Charles the Bold, her correspondence reveals someone of real learning and significant support for the arts – it was Margaret who appointed Erasmus as tutor to her nephew, Charles V, sponsored the work of sculptors and such compsers as Josquin and de la Rue and fostered at her court a spirit of cross fertilization between the arts (sculpture was particularly dear to her) even as she was gathering around her a manuscript and print library of magnificent proportions.
Anne Delafosse-Quentin, the soprano director of Les Jardins de Courtoisie, writes in one of the intriguing essays supporting this CD, "I entered the world of Margaret of Austria by way of the Grand Chansonnier… [which] comprised fifty-eight chansons… and marks Margaret's importance as princess, faithful Christian, patron, literary muse, compiler and poet." It's the six composers who figure in the Grand Chansonnier whose work is featured on this wonderful CD, designed to reflect the personality and cultural significance of Margaret. Their music, though, is uplifting, emotive, lucid and finely-wrought in its own right, and well worth getting to know regardless of their patron(s).
But it is on this remarkable patronage that Carnetz Secretz concentrates, using Margaret of Austria and the world she influenced as the focus for some remarkable and beautiful music. Pour ung jamais was probably written by her; the text of Plus nulz regretz is by the court historiographer on the occasion of the signing of the treaty of Calais between England and Margaret's Empire in 1508, while several of the others – Ce n'est pas jeu d'être si fortunée, Il est bienheureux qui est quitte, C'est ma fortune Tous nobles cuers and Secretz regretz for example – all reveal more intimate concerns, states of mind and emotional tribulations: Margaret's life was punctuated with bereavement and loss. But nothing here of a ruler imposing her woes on the rest of us: these are chansons grounded in the common experience. A certain detachment in the approach taken by Les Jardins de Courtoisie makes that pleasingly plain right from the outset.
And wonderful chansons they are: there's a languid, plangent quality to the melodies, a mellowness to the sonic texture and a worldly reflexiveness to the texts, not to mention a certain resignation at the hands of Fortune:
Il est bienhereux qui est quitte,
Du grief de fortune contraire,
Mais, las, je ne m'en puis deffaire
Et fault qu'en regretz me delitte.

"I… must be destroyed by sorrows."
But the sung articulation of such sentiments had better not be oppressive or self-indulgent, lingering, morbid. It isn't: Les Jardins de Courtoisie, who specialize in this repertoire – the chanson from the twelfth to the seventeenth centuries, have just the right balance between poignancy and power. Power because these chansons are at times bleak and bold in the expression of searing reactions to life's vicissitudes. Four singers (satb), viola da gamba, harp, flute and percussion, they conjure an evocative soundscape but never lose sight or track of the forward movement of the chansons. Key amongst the feelings with which one is left after listening to the dozen and a half or so works here presented is a worldliness in style – as much from these performers' ability to live the melancholy chiefly through admirable control of tempi as as a side effect of any spurious recreation thereof. A little more than the resignation one can attribute to Margaret herself from her writing; but less than stoic triumph over defeat. Very successful.
The recording is a good one with a minimal atmosphere that highlights the the words and their relation to the music. The 80-page book in which this delightful CD comes is one of the most attractively-produced and informative, well-illustrated and useful you are likely to see. There is background (in French and English), there are references, texts in French and English, beautifully-presented contemporary and modern illustrations, manuscripts, graphics and photographs. Worth it for that alone almost! If this lovely, gentle and compelling repertoire appeals to you at all, don't hesitate to get hold of this excellent CD.
Copyright © 2007, Mark Sealey