CD Review
Music for the Duke Of Lerma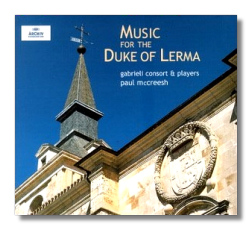 Alonso Lôbo:
Ego flos campi
O quam suavis est
Antonio de Cabezón:
Fabordones del segundo tono
Fabordones y glosas del primer tono ilano
Falsobordones à IV tono
Magnificat del sexto tono: Excerpt(s)
Tiento del quinto tono
Francisco Guerrero:
Beatus es et bene tibi erit à 4
Fabordones del VIII tono
Pange lingua
Johannes Urreda:
Pange lingua à 5
Tantum ergo sacramentum à 4
Mateo Romero: Dixit Dominus
Nicolas Gombert: Mon seul
Philippe Rogier: Fabordones del 3 tono à 5
Magnificat sexti toni
Salve regina à 8
Tu es Petrus
Gabrieli Consort & Players/Paul McCreesh
Deutsche Grammophon Archiv 471694-2 DDD 2CDs 72:13, 39:41
Painted in 1603 by Pieter Paul Rubens, the Duke of Lerma looks a bit like a weakling despite his display of power. Mounted on a jaunty white horse with a beautiful mane, he sits stiffly in his finery, with a watery eye and pouting, almost pursed lips.
This was the man who had the ear of King Philip III of Spain. To the kingdom's commoners, he was no friend; he did much to impoverish them and to weaken Spain overall. Nevertheless, in his efforts to keep Philip III entertained, he provided work for architects, writers, painters, and musicians. He is credited with having taken significant steps to modernize Spanish music. In 1605, to celebrate the birth of Philip IV, he imported Italian string-players (instruments in the violin family were unknown in Spain at that time) and, sweeping out the old guard, he favored forward-looking composers.
The duke built San Pedro, a massive palace and religious community, at his birthplace, and hosted Philip II there on three occasions: 1610, 1614, and 1617. By 1617, the duke was concerned that his position was being jeopardized by political intrigues, so the entertainment he planned for the king in that year was more impressive than the two that preceded it. Secular diversions were not forgotten, but the Duke of Lerma appealed to Philip III's piety by planning a procession and service for the Translation of the Blessed Sacrament into the church at San Pedro. To make a long story short, although the king's visit seems to have gone well, the duke was forced to leave the Escorial more or less by the back staircase just a few months later. As the cliché goes, although he was gone, he was not forgotten – thanks, in part, to his willingness to impress, and to his good taste in music.
There is no way of knowing for sure what music was played during this royal October weekend. The scholarship and imagination of Paul McCreesh and collaborators has created a fascinating "educated guess," however, and this is the result. The discovery of a dusty collection of music in the organ loft at San Pedro was serendipitous. McCreesh has supplemented these manuscripts with other music for First Vespers and the Salve Service that might have been performed at the time. This pair of CDs is the result, and it is fascinating, both historically and musically.
These CDs actually were recorded in the church at San Pedro. McCreesh's singers and instrumentalists wedged themselves into the not overly large space, and the ancient organ wheezed gamely. Almost miraculously, the pieces fell into place. It must have been an incredible sensation for these musicians to participate in what amounts to a musical séance. That magic is passed on to the listener. Stylistically, the program goes many different places – from Gabrieli-like polyphony for the chorus, brass, and organ, to intimate interludes for string consorts. Some of the wild variety is hinted at just by the pitches used: the organ and choir use a'=415 Hz, but the winds and string consort use a'=465 Hz! (Fortunately, they don't play together.)
Music for the Duke of Lerma is like the margarine that proclaims itself "fit for a king." And it is! This is one spread you can enjoy without guilt.
Copyright © 2002, Raymond Tuttle