DVD Review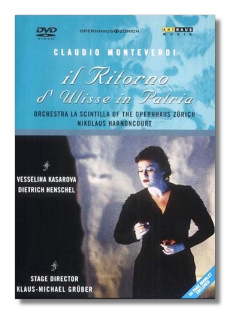 Il ritorno d'Ulisse in patria
Vessalina Kasarova (Penelope)
Dietrich Henschel (Human Frailty/Ulysses)
Malin Hartelius (Melanto)
Isabel Rey (Minerva/Amore)
Martina Jankovà (Fate/Juno)
Cornelia Kallisch (Ericlea)
Orchestra "La Scintilla" from the Zürich Opera House/Nikolaus Harnoncourt
Arthaus Music 100353 DVD 155min
All three of Claudio Monteverdi's extant operas are now on DVD. Taped live from the Zürich Opera House in 2002, this release proves that Il ritorno is as interesting, viable, and relevant as any opera composed within the last one hundred years. There's nothing of the museum about this production.
Based on Homer's Odyssey with an Italian libretto by Giacomo Badoaro, Il ritorno d'Ulisse in patria (Ulysses' Homecoming) is an opera about the rewards of patience and fidelity. Penelope, the wife of Ulysses, has been waiting many years for his return from the Trojan War. Her companions advise her to give her heart to one of the three suitors who have been importuning her. At this time, Ulysses is dumped on Ithaca's shore, more dead than alive. Minerva disguises him as an old man, and he returns to his palace where he insulted by the suitors but treated kindly by Penelope. In a contest to win Penelope's hand, none of the suitors can bend Ulysses' old bow. Ulysses, still disguised, does so, and kills the suitors. He reveals his true identity to Penelope, and a happy ending ensues.
Stage director Klaus-Michael Grüber doesn't attempt to duplicate what audiences from Monteverdi's time might have seen. Instead, he opts for a simple yet atmospheric and highly effective design, with minimalist sets, evocative backdrops, and a rotating stage. The singers are dressed in unfussy modern clothing, even the gods. (Neptune and Jove even look a little shabby, and, in her first appearance, Minerva looks like Martha Stewart out for a little light gardening.) The most unusual innovation is the suitors' use of marionette proxies for the courting of Penelope, who has a marionette proxy of her own. The marionettes appear to come from a traveling theatre-cum-trailer, for which the glutton Irus serves as a manager.
The large, attractive cast is unimpeachable. Bulgarian mezzo-soprano Vessalina Kasarova, however, is a knockout as Penelope. With her dignified bearing, telling gestures and facial expressions, and warm voice, she is every inch a woman, a presumed widow, and a queen. Dietrich Henschel is a passionate, sympathetic Ulysses. Other standouts include Isabel Rey's animated Minerva, the adorable Malin Hartelius as Melanto, Cornelia Kallisch as the faithful nurse Ericlea, and Rudolf Schasching as the obnoxious, stuttering Irus.
Since Harnoncourt recorded this opera in the 1960s, his interpretation has warmed up considerably. The large (but not inauthentic) orchestra creates an impressive sound, moving several steps away from the feeling of a chamber opera. Singers are allowed to give full vent to their emotions, with little stylization. Harnoncourt's goal is to present Il ritorno as an opera every bit as grand and yet personal as Aïda or Turandot. And why not? To do otherwise would be false modesty.
The sound (PCM Stereo or Dolby Digital 5.1) and picture (16:9) are as fine as any I've encountered on a DVD. Subtitling can be had in Italian, English, French, Spanish, and Japanese, for those so inclined. Fifty-eight chapters facilitate skipping right to one's favorite scene.
Enthusiastically recommended!
Copyright © 2003, Raymond Tuttle