DVD Review
Sex, Broadway & Religion
Der Rosenkavalier, Op. 59
Adrianne Pieczonka – The Marschallin
Angelika Kirchschlager – Octavian
Franz Hawlata – Baron Ochs
Franz Grundheber – Faninal
Miah Persson – Sophie
Konzertvereinigung Wiener Staatsopernchor
Vienna Philharmonic Orchestra/Semyon Bychkov
Robert Carsen, stage director
Recorded live at the 2004 Salzburg Festival
TDK DVD DVWW-OPROKa 2DVDs LPCM Stereo Dolby Digital DTS Anamorphic Widescreen

Wonderful Town (Concert Performance)
Kim Criswell – Ruth Sherwood, Violet
Audra McDonald – Eileen Sherwood
Thomas Hampson – Robert Baker
Brent Barrett – Wreck, Guide, First Editor, et. Al.
Karl Daymond – Second Editor, Chick Clark
European Voices
Berlin Philharmonic Orchestra/Simon Rattle
Candace Allen – Choreography
Berlin Philharmonic's New Year's Concert 2002 (December 30-31)
EuroArts DVD 2052298 LPCM Stereo Dolby Digital DTS Anamorphic Widescreen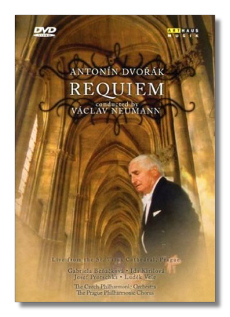 Requiem Mass, Op. 89/B 165
Gabriela Beňačková
Ida Kirilova
Josef Protschka
Ludek Vele
Prague Philharmonic Chorus & Orchestra/Vaclav Neumann
Franz Kabelka – Director
Recorded Live at St. Vitus Cathedral, Prague in 1988
Arthaus DVD 102063 LPCM Stereo Full Screen
Strauss's Rosenkavalier contains some of his lushest vocal and orchestral writing – not to mention ingratiating waltzes – and it is thus easy to understand why this is his most popular opera. The singing by the three female principals in this EuroArts production is splendid, and their dramatic skills equally convincing. I especially like Angelika Kirchschlager's Octavian, who pairs up well in the many numbers with Adrianne Pieczonka's Marschallin. The attractive Miah Persson makes a fine Sophie, too. In the Act II duets, Mir ist die Ehre widerfahren and Mit Ihren Augen, both she and Kirschlager are splendid. In the famous Act III Trio the three principals make the music really soar, and in the ensuing Finale Kirschlager and Persson maintain their passion and sing beautifully, dreamily. The male singers may be a tad less compelling, but considerably more than adequate. Franz Hawlata as the Baron is especially fine in the last act, where his comic skills are quite convincing. Semyon Bychkov keeps things moving and lively, drawing spirited playing from the Vienna Philharmonic, who know this score well.
I suppose the only crucial element left here is the stage direction of Robert Carsen. Carsen, like some other operatic directors of Richard Strauss operas, tries to spice things up. The third act takes place not in Strauss and von Hofmannsthal's inn, but a brothel, where there is a fair amount of nudity, frontal too, and some fooling around as well. Mind you, I'm not complaining, just observing and wondering: this is the second Strauss opera I've seen lately featuring nudity. In the numerous other DVDs I've reviewed in the past few years I can't recall many other examples: none in Verdi, Puccini, Prokofieff, Britten, Wagner, Mozart and most of the others. What is it about Strauss then? I guess he's more sensual, huh? Or is he less musically interesting, in need of a boost? Personally, I don't think Strauss needs help, nor will most people be offended by this production, even if they may sense a certain lasciviousness – a not necessarily distasteful lasciviousness – hovering above much of the third act.
The stage sets, costumes and other aspects of the production are quite lavish. The camera work and sound reproduction are excellent, too. Overall, this is an enjoyable production, one of the better ones I've seen of late. Strongly recommended.
As for the concert presentation of Bernstein's Wonderful Town, I can give a one-word summary – Wow! This DVD contains a superb performance of Bernstein's 1953 musical, based on the popular play My Sister Eileen. The offering here is stunning in every respect, from the singing of the principals and chorus, to the playing of the Berlin Philharmonic, to the choreography of Candace Allen, to the camera work of Henning Juhl, and to the overseers of the whole thing, conductor Simon Rattle and stage director Andreas Morell. Who would have guessed that such a splendid production would come from an English conductor, a German director and a Berlin orchestra? Well, at least the principal singers are American!
As indicated in the headnote, this is a concert performance of the musical, but it contains some dialogue and all the numbers except Conversation Piece. It does, however, include an encore of Conga, which ends up involving the audience who dance in the aisles. It's Love is reprised as in the original Broadway musical, but not Ohio. Speaking of Ohio, it's one of the finer numbers here, with Kim Criswell and Audra McDonald brilliantly showcasing their dramatic and vocal talents. Thomas Hampson, primarily an operatic singer, is in fine voice and hardly out of his element. His a Quiet Girl is beautifully sung and his duet with Criswell, It's Love, is another highpoint.
Actually, it's hard to select further highlights, since everything is so well done. But I'll try: Brent Barrett's Pass the Football is a delight, as is Criswell's One Hundred Easy Ways to Lose a Man and McDonald's a Little Bit in Love. I could go on, but I'll end up naming every number in the show. In a sense, no one dominates the proceedings here, since all performers are so excellent. But the sheer charisma of Kim Criswell emerges as a dominating factor, especially in the rollicking encore of Conga. Here, her mixture of cuteness and sassiness bowl you over: note how she turns her voice raspy and husky for comical effect at certain points, not just here but in earlier numbers as well.
Suffice it to say, this is one of the most successful DVDs of anything I've ever reviewed. I didn't mention that the sound reproduction is also superb. Wonderful Town may not have the depth of Bernstein's West Side Story, but it's well worth your investment. Highest recommendations!
The third and last DVD covered in this review is the Vaclav Neumann Dvořák Requiem. Admittedly, I've thrown together three rather disparate DVDs in this review – sex, Broadway and religion, you might say – buy this one shares one thing in common with the others – it too is a fine performance. It was recorded at a momentous time in Czechoslovakia: Communism's grip on Eastern Europe was on the brink of collapse; in a few months Czechs, Slovaks and others would be free of its oppressive encumbrance.
Do I sense the feeling of impending freedom in this performance? Maybe. One would like to attach that kind of powerful significance to such a wonderful performance, but I believe Neumann and his forces probably imparted this kind of spirit and commitment to this work well before political events augured the downfall of Communism. Still, a religious fervor and adroit musicality hover above the proceedings to an inspired level here that might well have gotten its springboard from the favorable political climate of a rapidly deteriorating Soviet dominance.
Gabriela Beňačková ( – Čápová) was in her prime in 1988 and her performance is stunning throughout. This soprano was the Slovak Maria Callas of her day, even her voice was considerably different from that iconic diva's. Listen to how Beňačková's voice soars beautifully and gently above the chorus in Quid sum miser and the Agnus Dei. Tenor Josef Protschka is also excellent: try the grim Lacrimosa, where he sings with all the necessary angst and fervor. But the moment Beňačková comes in here, my eyes look toward her. I can't help it. The other soloists are fine, though mezzo Ida Kirilova has a thickness of tone and some wobble that can distract at certain points. Still, she's good overall.
The chorus is excellent: try the Offertorium, and notice their deft negotiation of the challenging contrapuntal writing, not to mention their general beauty of tone. Neumann conducts with insight, probing beneath the surface to unearth detail and a greater sense of profundity. The sound is good and camera work excellent, though the colors are a bit washed out. Overall, this is an excellent Dvořák Requiem, and the only DVD performance of it widely available at the moment. Recommended.
Copyright © 2007, Robert Cummings