Related Links
Recommended Links

Site News
Blu-ray Review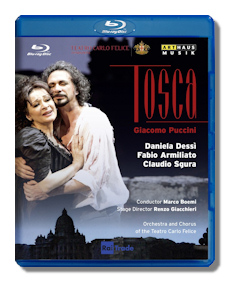 Tosca
Tosca - Daniela Dessì
Mario Cavaradossi - Fabio Armiliato
Scarpia - Claudio Sgura
Angelotti - Nikolay Bikov
Sagrestano - Paolo Maria Orecchia
Spoletta - Max De Angelis
Sciarrone - Angelo Nardinocchi
Un carceriere - Roberto Conti
Un pastore - Luca Arrigo
Teatro Carlo Felice Boys' Choir/Gino Tanasini
Teatro Carlo Felice Chorus and Orchestra/Marco Boemi
Chorus master: Franco Sebastiani
Renzo Giacchieri, stage director and lighting designer
Recorded live from the Teatro Carlo Felice, Genoa, 2010
Arthaus Musik Blu-ray BD4541 142m LPCM Stereo DTS-HD Master Audio Widescreen
When you purchase a DVD or Blu-ray disc of a favorite opera and you just can't wait to find out how good the performance is, you can always go to the last track to observe the level of enthusiasm by the audience during the curtain calls. That's usually a reliable barometer. Here, on this Arthaus Blu-ray version of Tosca, the audience is not only lavish in its cheers and accolades at the end, but earlier they go wild when Daniela Dessì sings Vissi d'arte. In fact, to placate them, she immediately encores the number. The same thing happens when Fabio Armiliato, Dessi's real-life husband, sings E lucevan le stelle. And it's easy to see why the audience responds with such overwhelming approval for these two numbers, as both were sung with such utter commitment and high artistry. This operatic production shows Dessì and Armiliato at their finest. Moreover, Claudio Sgura is also exceedingly excellent as Scarpia, and the other cast members are generally quite good. To top the performance off, the conductor, Marco Boemi, leads the proceedings with judicious tempos and draws splendid playing from the orchestra.
The production by Renzo Giacchieri is traditional and offers sets that are visually imposing and based of those of Adolf Hohenstein, that were used for his original design for the 1900 world premiere of this masterwork in Rome. I guess it would be hard to be more traditional and authentic than that. That said, some listeners may want a Tosca with younger performers – performers more in line with the ages of the characters in Puccini's opera. This Arthaus effort is clearly a mature take on Tosca: Dessì was fifty-two at the time of this performance and her husband was about the same age. Yet, in most respects I think it would be hard to beat this production, for while Dessi's voice has darkened a bit, she has nonetheless maintained a vocal beauty and dramatic acumen that give her an edge over most other sopranos attempting this challenging role. Armiliato is also totally convincing in his role of Mario Cavaradossi.
In 2011 I reviewed another video issue of Tosca here (Arthaus Musik DVD 7195) at Classical Net, also available on Blu-ray. It featured Fiorenza Cedolins and Marcelo Alvarez in the leads. I found it mostly good, especially in aspects of the production. This new one, however, has the edge in singing and the production is just as good, maybe better. Both feature excellent sound and superior camera work, but in the video realm, this new Arthaus Blu-ray may well be the Tosca of choice.
Copyright © 2012, Robert Cummings