CD Review
The Historical Record I – Pianists
Historical recordings reviewed by Alex Morin
First, we must talk about two absolutely astonishing discs containing Sergei Rachmaninoff playing a selection of his own pieces (Telarc 80489) and a mixed program including Chopin and Schubert (Telarc 80491), recorded between 1919 and 1929 on Ampico piano rolls. I have always detested piano rolls – including earlier transfers to CD of these performances – because of their mechanical inflexibility, but these are in a different class altogether, for two reasons. [ Amazon - UK - Germany - Canada - France - Japan ]
The first is technical: a music-loving electrical engineer named Wayne Stahnke has spent many years devising a computer program linked to an electronic reproducing piano – a Bösendorfer with wonderful sound – that brings them to vivid life. With the help of superb sound reproduction by Teldec, Rachmaninoff's physical presence is palpable; every attack is crisp, every phrase is magically nuanced, every tone is beautifully colored, and there are no audible impediments to the flow of the music. The second is, of course, the pianist.
Most of the selections on the second disc are relatively trivial, which makes the disc somewhat less interesting musically than the first, but everything is played with astonishing technical mastery and sensitivity. While the timings here and on the disc recordings made at the same time are almost exactly the same, Rachmaninoff seems to have been more free and more relaxed working on the piano rolls than on the discs. At least that is the impression I get from his ravishing performances of his own works and of Chopin's Nocturne Op. 15:1 and Schubert's Impromptu Op. 90:4. The high point is a powerful and passionate Chopin Scherzo Op. 4, never put on disc, and worth the price of admission all by itself. My recommendation is unequivocal: anyone interested in the piano must have these two releases. [ Amazon - UK - Germany - Canada - France - Japan ]
The sixth volume of "The Complete Josef Hofmann" (Marston 52014, 2CDs) is among the most interesting of the series. Its centerpiece is his legendary 1938 Casimir Hall recital, which includes Beethoven's "Waldstein" sonata, Schumann's Kreisleriana, four Chopin pieces, and several encores. The recital given in April 1938 in the little 350-seat hall of the Curtis Institute in Philadelphia found Hofmann at the pinnacle of his career and facing a personal crisis, his imminent dismissal as Director of the Institute. The result was a group of impassioned performances in the grand manner, totally committed and totally assured, titanic in their power, astonishing in their virtuosity, and wonderfully pure in their lyrical flow. His heavy rubato and explosive outbursts sound very mannered to turn-of-the-century ears and any pianist who tried to play this way today would be severely criticized (I have done so myself), but this was the style in Hofmann's time and quite possibly Beethoven's own style as well. In any event, it is a style that distinguishes Hofmann's interpretations from any others, and anyone who played with this kind of passion, skill, and musical understanding would be worth hearing, then or now.
All of this is most evident in the "Waldstein", which is given a remarkable performance – fast, awesome in its power and gripping in its intensity. The same is the case for Chopin's Polonaise in E Flat minor (Op. 29:2) and the F Minor Ballade (Op. 52); both are darkly colored and very dramatic. The sound tends to crack up in loud passages throughout both discs, but it is good enough to allow us to hear an extraordinary artist at the height of his powers. [ Amazon - UK - Germany - Canada - France - Japan ]
The great British pianist Clifford Curzon's discography was limited, and it has been slow in appearing on CD. A new release from Pearl (0027) is particularly welcome because it brings back three wonderful performances that have long been unavailable (the Schubert-Liszt 1937 Wanderer Fantasy and the 1941 Schubert Impromptu Op. 90:1 from 78s, and the 1947 Liszt Mephisto Waltz from an old LP); only one – the Mozart concerto recorded in 1945 – was previously issued on a Dutton CD. Curzon was a perfectionist, and his performances are the result of much thought and endless practice, but they always sound natural and spontaneous and display his distinctive combination of elegance and passion. The Mozart concerto is poised and balanced, and with an excellent accompaniment led by Boyd Neel, has very much a chamber music intimacy about it. He finds more music in the two Liszt pieces than the scores suggest, and his way with Schubert Impromptus is inimitable; as ususal, this one is played with a mixture of naïvete and sophistication that is altogether endearing. The sound is not great – the Decca pressings, especially those made during the war, were notoriously poor – but it is good enough to give us a rewarding picture of Curzon's artistry. [ Amazon - UK - Germany - Canada - France - Japan ]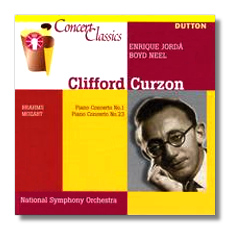 The identical performance of the Mozart concerto also appears on a recent release from Dutton Concert Classics (CDEA5507), in somewhat better sound. This disc also includes a performance of Brahms' Concerto #1 that shows Curzon at his best, with Enrique Jorda and the National Symphony providing effective accompaniment. It is spacious, noble, skillfully phrased and structured, very beautiful and very exciting Again the sound is not great, but musically, you won't hear anything better. [ Amazon - UK - Germany - Canada - France - Japan ]
Stereotypes have a deservedly bad name because they lump together people, groups, or ideas without allowing for individuality or critical judgments, but they generally originate and persist because there is at least a kernel of truth in them.
Thus when we think of French music and performers, it is often in stereotypical terms like "elegant, graceful, balanced, lucid, precise, witty, shallow" and so on, and when we listen to a pianist like Robert Casadesus, we see that those terms are appropriate descriptions of his work. That is the case for the pieces on a disc from Dante (100), his first U.S. recordings in 1940 and 1941. His Mozart is a Gallicized entertainer at the court of some latter-day Louis XIV, whose music is crisp, pellucid, aristocratic, untroubled and untroubling. I prefer a stronger, deeper, and more Viennese Mozart, but Casadesus's interpretation is certainly legitimate and is very agreeable in its own way. Barbirolli's accompaniment is somewhat leaden in the concerto, but the pianist's brilliant and tasteful execution make up for that, and the sound is excellent for its age. These are not the only performances of this wonderful music you will want to hear, but they will give you considerable listening pleasure. [ Amazon - UK - Germany - Canada - France - Japan ]
Frederic Lamond (1868-1948), a pupil of Liszt's last years, provides a link to a historical tradition that is now lost to us. He was a Beethoven specialist, one of the first to record the sonatas. On Biddulph 043, he plays Sonatas 8, 10, and 12 and Concerto 5 (the "Emperor," with Eugene Goossens and the Royal Albert Hall Orchestra), in recordings made in the 1920s. His interpretations are direct, lyrical, very fast – perhaps because of the requirements of 78s, but actually close to the composer's markings – and very passionate. Unfortunately, the sound is poor, but even so, Lamond's artistry is rewarding. [ Amazon - UK - Germany - Canada - France - Japan ]


The Swiss pianist Edwin Fischer (1886-1960) had a powerful personality, a romantic spirit, and great musical imagination. These are evident in his 1935 performance of Beethoven's "Emperor" Concerto, with Karl Böhm and the Dresden Staatskappele, and Sonatas 8 and 23 (the "Pathétique" and "Appassionata") recorded in 1938 and 1935, respectively, on Arkadia ICD78535 in adequate sound but with inadequate program notes. The interpretations are very much his own, emphasizing the poetry of the music more than its drama, with light textures and remarkable delicacy of touch. Other interpreters bring greater intensity to these pieces, but Fischer's are very beautiful. [ Amazon - UK - Germany - Canada - France - Japan ]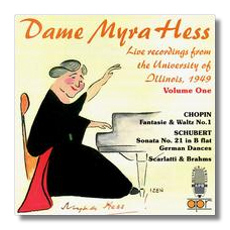 Myra Hess (1895-1965) was probably the best-loved pianist of this century, and for good reason: her warmth of personality and strength of character were expressed in her life and in her music. She came to artistic maturity slowly, but her wartime recitals, given free in London's National Gallery after the major concert halls were closed for the duration, made her famous and adored. Her discography is small, because few of her concerts were taped and she hated the recording studio – she once said "I feel like I'm going to my own funeral when I hear myself play" – and she thrived on her relationship with her audiences. Her playing was always serious, thoughtful, warm, and full of wit and charm, and that is the way she played everything on this disc (Appian APR5520), derived from two recitals at the University of Illinois in 1949, and apparently the only live solo recording we have of her work. It includes a Chopin Fantasy and Waltz, Schubert's Sonata D 960 and 22 of his German Dances, a Brahms Intermezzo and a Scarlatti Sonata, and all of them exhibit her glowing musicality. The sound is not good, but the playing is a delight. [ Amazon - Germany - Canada - France - Japan ]
The Tasmanian-born pianist Eileen Joyce (1912-91) achieved her greatest popularity during World War II, when she toured the bombed-out cities and towns of England with the London Philharmonic. In addition to her sound technique and expressive strength, she was quite beautiful, and attracted attention by changing her gowns to correspond to her notion of the color of the music she was playing. A disc from Dutton Concert Classics (CDEA5505) presents her in Mendelssohn and Rachmaninoff concertos (#1 and 2, respectively) and Franck's Symphonic Variations, in strong, clear, and expressive performances recorded in 1946 and 1947. The sound is pretty good and her playing is enjoyable, though of course there are excellent modern recordings that come across more effectively. [ Amazon - UK - Germany - Canada - France - Japan ]
The German pianist Emil von Sauer (1862-1942) was among Liszt's last pupils, but his attitude toward that great man was ambiguous, and he always said that his true mentor was Nicholas Rubinstein, with whom he studied in Moscow. From 1882 to 1936 he made long concert tours that took him just about everywhere, always to considerable acclaim for his technical mastery and elegant style. A three-disc set from Marston (53002) brings us his complete commercial recordings, and includes mostly the kinds of pieces that fit well onto 78-rpm platters: lots of Chopin, Liszt, and his own compositions, all played with an engaging if somewhat superficial mix of virtuosity and poetry. The set includes the two Liszt concertos recorded in 1938 (when Sauer was 77) with Felix Weingartner (another Liszt pupil), in performances that are smooth, polished, and relaxed, not particularly dramatic but quite lovely. Not a really great pianist, probably, but one who provides considerable musical satisfaction. [ Amazon - UK - Germany - Canada - France - Japan ]
Benno Moiseiwitsch (1890-1963) was a Leschetizky pupil who was especially notable for his singing tone, his fire and brilliance, and his elegant and poetic style. These qualities are apparent in a Dante/Historical Piano release (084) that offers two performances of Beethoven's "Emperor" Concerto), one with George Szell from 1938 and the other with Malcolm Sargent from 1963. The first is splendid, from its imperious opening to its exciting conclusion; it has nobility coupled with subtlety of phrasing and coloration, and is well-shaped and well-paced throughout. Aided by Szell's alert and responsive accompaniment, and in sound that is remarkably good for its age, it is as good an "Emperor" as any I know. In the Sargent recording the faster tempos don't allow the pianist's lyricism to shine through; the sound is less satisfactory, and the performance as a whole seems prosaic. But the version with Szell is enough to justify the price of admission. [ Amazon - UK - Germany - Canada - France - Japan ]
Copyright © 1999, Alexander J. Morin