Related Links
Recommended Links

Site News
CD Review
Ludwig Thuille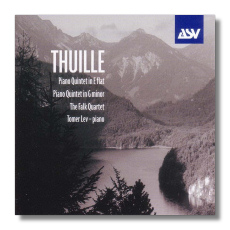 Piano Quintets
Piano Quintet in E Flat Major, Op. 20
Piano Quintet in G minor
Falk Quartet
Tomer Lev, piano
Academy Sound & Vision CDDCA1171 65m DDD
The continuous discovery of fine Romantic composers seems to be the prerogative of AS&V and Hyperion with the former releasing this splendid disc by Ludwig Thuille by the equally splendid Falk Quartet.
These two quintets contain music that is extremely pleasant and also very relaxing without being too troublesome on the intellectual side. The E flat work dates from 1901 and is rather backward looking in its general style. The G minor is shorter, and as a result in three compact movements that culminate in a dazzling Finale marked Presto ma non troppo.
Having heard these works for the first time, I could not compare them to other versions but can happily state that the Falk Quartet and Tomer Lev play the music with infectious dedication and obvious enjoyment. It also boasts exquisite recorded sound. I would most definitely recommend this disc for seasoned chamber music lovers.
Copyright © 2004, Gerald Fenech