Related Links
Recommended Links

Site News
CD Review
Song of the Birds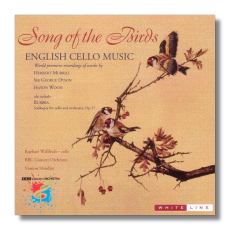 British Cello Music
Herbert Murrill: Concerto #2 for Cello and Orchestra, 'The Song of the Birds'
George Dyson: Prelude, Fantasy and Chaconne
Edmund Rubbra: Soliloquy for Cello and Orchestra, Op. 57
Haydn Wood: Philharmonic Variations for Cello and Orchestra (1939)
Raphael Wallfisch, cello
BBC Concert Orchestra/Vernon Handley
Academy Sound & Vision White Line CD WHL2153 68m DDD
Sanctuary continues their much-traveled series of English concertante works with this collection of rarities dedicated to the cello. The combination of Raphael Wallfisch and Vernon Handley is certainly mouth watering and it is felicitous to report that the whole enterprise is most winningly done.
I was not aware of Herbert Murrill beforehand but really enjoyed his Concerto #2 aptly titled 'Song of the Birds'. This is in the form of a one-movement fantasia that has Wallfisch waxing on the beautifully nostalgic themes with Handley offering firm support throughout.
Sir George Dyson is receiving somewhat of a revival of late and this Prelude, fantasy and Chaconne will definitely bring him more admirers. The work dates from 1936 and is very Elgarian in character and again Wallfisch is a noble interpreter throughout. Edmund Rubbra is another great English composer and his Soliloquy for cello and orchestra is also winningly done.
Finally we have Haydn Wood's Philharmonic Variations for cello and orchestra, a glorious work that continues to keep this composer high in my personal canon. This is definitely a most interesting disc that confirms that there is much more to the British cello tradition than Elgar's Cello Concerto.
Copyright © 2004, Gerald Fenech