Related Links
Recommended Links

Site News
SACD Review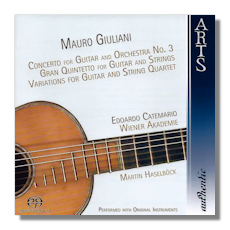 Concerto for Guitar #3 in F Major, Op. 70
Quintet "Gran Quintetto" for Guitar and Strings, Op. 65
Introduction & Variations on a Theme of Rossini, Op. 101
Introduction & Variations on a Theme of Generali, Op. 102
Introduction & Variations for Guitar & Strings, Op. 103
Edoardo Catemario, guitars
Vienna Academy/Martin Haselböck
Arts Blue Line 47689-8 69m Hybrid Multichannel SACD
Giuliani's music was practically new to me before I received this disc in the post but I have to say that I was more than pleasantly surprised by the sheer virtuosity and utter good humour of the works on offer here.
The Guitar Concerto is the most substantial of the five presented here and Catemario plays the work with an innate feel for the ebb and flow of the music especially in the delightful Polonaise which concludes the work in robust fashion. The three variations are also pleasant to listen to with Giuliani making the most out of the guitar's soothing qualities.
The SACD sound is mostly exquisite with soloist and accompanists balanced extremely well in what is also a very good acoustic. With fastidiously detailed notes as well as well balanced and technically accomplished performances masterminded by Haselböck, this disc deserves an unqualified recommendation.
Copyright © 2009, Gerald Fenech