CD Review
Baldassarre Galuppi
Forgotten Arias of a Venetian Master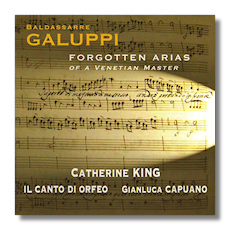 Concerto à quattro no 1 in G minor
Concerto à quattro no 6 in B Flat Major
L'olimpiade: Superbo di me stesso
Scipione in Cartagine: Di madre ai cari amplessi
Sagrifizio di Jefte: Ah, di Lete dall'onda profonda
Voi che languite
Il trionfo della continenza: Cedo alla sorte
Antigona: E pena troppo barbara
Antigona: Benché giusto a vendicarme
Catherine King, mezzo-soprano
Il Canto di Orfeo/Gianluca Capuano
Avie AV2116
Baldassarre Galuppi (1706-1785) was a Venetian composer best known during his lifetime for his comic operas. Several were written for the plays of Carlo Goldoni and have all the sprightliness and color associated with that writer's flair for and insight into human foibles with tinges of seriousness at the edges. It was on the strength of his opere serie, though, that Galuppi was invited to London in 1741, where he worked for two years. Yet these works are now largely unknown and unperformed. This excellent CD from Catherine King and Il Canto di Orfeo with Gianluca Capuano offers a nice corrective, being a dozen or so fascinating and compelling arias from L'Olimpiade, Scipione in Cartagine, Il sagrifizio di Jefte, Il trionfo della continenza, Antigona and an unknown opera together with a couple of Concerti à quattro.
These operas chosen to illustrate Galuppi's work were written mainly in the first half of his career, which co-incided with the golden age of the dramma per musica and have been culled from various sources in northern Italy and the famous collection of operas by John Walsh. The arias are less spectacular than they are solid, delicate and of some depth. The performers here have clearly thought at length about the music and sound quite at home in it. There is all the grace, restrained virtuosity and above all melodiousness that accounted for Galuppi's (latterly eclipsed) popularity and acclaim in the eighteenth century.
There is letter from Metastasio to Farinelli concerned at the way in which he saw Galuppi's undoubted and acknowledged technical skills taking undue precedence over the ways he responded emotionally… Galuppi was well known for insisting on thorough preparation of his players at performance and the instrumental parts in particular are very demanding; they require great attention to detail. The musicians on this disc cope not only with the nature of this demand, but also with the balance found lacking by Metastasio very well. There is warmth and color. But also a very persuasive precision – particularly from Catherine King, whose enthusiasm and vibrancy make this a treasure of a CD.
The excellent liner notes in English, French and German with the texts in Italian too explain some of the finer points of the styles which Galuppi used – the so-called ritmo lombardo, for example; a stressed short note followed by a longer one… syncopated rhythms and expressive pauses. The accompanying essay explains how the kinds of intricacy which may have contributed to Galuppi's being overshadowed as he has were more than Baroque showiness. In fact these stylistic traits support and re-inforce the psychological and emotional states of mind of the characters. It is towards a greater understanding and appreciation of this that the music presented here contributes. The very first aria, for example, Superbo di me stesso uses melismatic segments admixed with insistent and impetuous thematic material to convey the genuineness of a character (Megacle) acting against his best interests in a 'love triangle'.
In addition to the beauty of this music, there are also some surprising distinctions – the inclusion of wind instruments into the orchestral writing thereby adding a texture and color quite unusual for the genre at this period. Nor are the arias mere decoration; they have explicit and definite dramatic purposes, which are well conveyed by the ensemble and soloists here. The CD also contains examples of Galuppi's sacred music – he was appointed maestro di cappella at St. Mark's in 1762. From his 27 oratorios, 'Ah, di Lete dall'onda profonda' (Il sagrifizio di Jefte) is a somber and profound piece offering a tantalizing glimpse of the kind of music that deserves more exposure. Then the two Concerti à quattro afford an interesting insight into the balance he was keen to achieve between 'standard' polyphony and dialog between instruments, which looks forward to the developments in classical chamber music of the likes of C.P.E. Bach and Haydn.
Il Canto di Orfeo is a new ensemble; this is their only recording in the catalog, although both King and Capuano (a leading authority on Carissimi and seventeenth century Roman oratorio) have distinguished careers and are highly regarded in their respective fields, of course. The way they have come together and produced a sampling of Galuppi's music on this CD is to be admired. If the repertoire interests you and you wish to explore his music further (there is barely a handful of dedicated recordings of his operas), then don't hesitate to buy this CD.
Copyright © 2007, Mark Sealey