DVD Review
Operas from Glyndebourne
Gianni Schicchi
Alessandro Corbelli (Gianni Schicci)
Luigi Roni (Simone)
Felicity Palmer (Zita)
Massimo Giordano (Rinuccio)
Sally Matthews (Lauretta)
Marie McLaughlin (La Ciesca)
London Philharmonic Orchestra/Vladimir Jurowski
BBC Opus Arte DVD OA0918D 74mins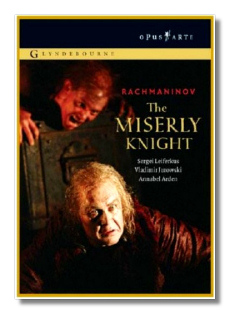 The Miserly Knight

Sergei Leiferkus (The Baron)
Richard Berkeley-Steele (Albert)
Viacheslav Voynarovskiy (Moneylender)
Albert Schagidullin (The Duke)
Maxim Mikhailov (The Servant)
Matilda Leyser ("Aerialist")

London Philharmonic Orchestra/Vladimir Jurowski
BBC Opus Arte DVD OA0919D 95mins
Although its original setting is the late 1200s, director Annabel Arden has moved Gianni Schicchi up to the time of Puccini. I don't have a big problem with that, although it seems unlikely that anyone would get so excited about a mule in 1918, and so on. In a ten-minute video interview with Arden, Jurowski, and Corbelli, it is suggested – unless I misunderstood – that Schicchi may be interpreted as a dark portent of Italy under Mussolini. Was the title character Jewish? It's true that the other characters in the opera look down their noses at him because he is a "foreigner" (i.e., not from Florence), but has there been a time in history when one group of people wasn't denigrating another? At any rate, in this production (taped live at Glyndebourne on July 11, 2004), Schicchi's tirade against Zita for her refusal to let Rinuccio marry Lauretta is especially bitter. So are his cries of "Niente! Niente!," as he tells Buoso's relatives that he will do nothing to help them with the old man's will. (Thank goodness Lauretta – a lovely Sally Matthews – steps up to sing "O mio babbino caro" at just that moment, otherwise the audience might have wondered if they had stumbled onto a lost Weill/Brecht musical instead.) This production runs like clockwork, and is well staged. It's just a little too intense for the music, I believe.
Musically, everything is in top form. Felicity Palmer sings Zita like an evil Dame Quickly, and her vocal inflections are just as memorable as her hair color, which is an inhuman shade of reddish-blonde. I've complained about Luigi Roni's dry voice in various La Scala productions, but here he is perfect as Simone, Buoso's cousin – full of pomp and hurt feelings. Giordano is a stentorian and middle-aged Rinuccio (hardly the 24-year-old designated by the libretto), but an ardent and sympathetic one as he sings "Firenze è come un albero fiorito." The aforementioned Matthews, her lovely voice swelling with emotion, is the only singer who actually stops the show in this production. (Of course everyone waits for "O mio babbino caro.") As that babbino, Corbelli is wily and likeable, when Arden isn't asking him to go off on a harangue. His voice could be a little spookier in "Addio, Firenze," but this is no great matter. Jurowski keeps the music ticking along like the fine piece of machinery that it is. The opera requires the usual 50 minutes; the additional 24 are devoted to curtain calls and credits, the interviews, a synopsis, and a preview of the other half of this unusual double bill (available separately).
The "other half," recorded on the same evening, is Rachmaninoff's seldom heard The Miserly Knight, based on one of Pushkin's so-called "little tragedies." It was premièred at the Bolshoi in 1906. Hardly an opera at all, this is more like an extended psychological portrait of avarice, and how it warps not just the miser but also those around him. Rachmaninoff wrote the score for Feodor Chaliapin, but the famous bass wanted nothing to do with it, supposedly because he disliked the setting of Pushkin's text. The vocal writing is taxing however, and it probably would have been too high for Chaliapin, so that explanation must be considered as well.
In the video segment, Jurowski makes the curious claim that The Miserly Knight doesn't sound like Rachmaninoff. True, it doesn't have the sweeping melodies of the piano concertos or the symphonies, but one could hardly mistake it for the work of any other composer. It strongly anticipates The Isle of the Dead, which Rachmaninoff composed a few years later. There is a long orchestral prelude, and the orchestra plays an extremely important role throughout. In brief, the opera opens with complaints from the Baron's son Albert, a knight like his father, who has been reduced to penury by his father's lack of support. The Moneylender visits him, offering first to poison the Baron, and then a loan. Albert rejects both, but goes to the Duke to complain about the Baron. Alone, the Baron sings a long, disturbing monologue in which he luxuriates in his wealth with an almost sexual intensity. Summoned to the Duke, he accuses Albert of plotting to rob or kill him. Throwing down his glove, he challenges his son to a duel. The Duke angrily dismisses them both. Suddenly, the Baron is seized with panic: where are the keys to his chests of gold? He collapses, dead. Director Arden has added a non-singing role to this drama, wonderfully played by the same actress who was the dead Buoso in Gianni Schicchi (!). Called the "aerialist" in the credits – she spends a lot of time climbing up and down a pole in the middle of the stage with spider-like grace – she apparently represents the Baron's lust for riches… or the object of that lust. Again, Arden has modernized the setting, although the precise time and place are unknown and frankly irrelevant.
If the Glyndebourne Gianni Schicchi merits a "B," their Miserly Knight gets a solid "A." Arden's fanciful production makes a seemingly unstageable opera into gripping entertainment, and Jurowski conducts a performance characterized by its churning intensity and infinite shades of darkness. Baritone Sergei Leiferkus is, as Arden says in the interview, close to "unwatchable" in the title role because of his character's single-minded obsession with acquiring wealth. Of course Leiferkus's voice is not as dark as Chaliapin's, so one might complain that the singing is lightweight, but Leiferkus more than compensates with the wild look in his eyes and his intelligent vocal acting. As his son, tenor Richard Berkeley-Steele has plenty of heroic metal in his voice. Voynarovskiy is an oily Moneylender, and Schagidullin a suave yet sinister Duke. The 65-minute opera is complemented by the 20-minute interview, plus a synopsis and a preview of Gianni Schicchi.
Both productions feature some of the best sound I've heard on a DVD. I was beginning to despair of hearing a DVD that sounded as good as a CD, but here are two of them. The video is Anamorphic Widescreen, and well captured by the cameras, even though The Miserly Knight is almost consistently dark. The subtitles (in many languages) are excellent.
Copyright © 2005, Raymond Tuttle