CD Review
BBC Legends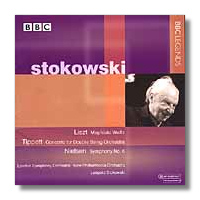 London Symphony Orchestra/Leopold Stokowski
1 New Philharmonia Orchestra/Leopold Stokowski
BBC Legends BBCL4059-2 ADD monaural 72:40
Stokowski didn't leave commercial recordings of the Tippett and the Nielsen; in fact, he programmed them only once. It is fortunate, then, that the BBC archives preserved these literally unique performances.
The Gabrieli, Tippett, and Liszt come from a concert given at the Edinburgh Festival on August 22, 1961. It was Stokowski's idea to separate the orchestra for the first part of the program. The Sonata pian e forte, at least in the conductor's arrangement, is scored for brass and woodwinds, and the Tippett Concerto for Double String Orchestra is for strings alone. Then he brought the entire orchestra together for the Mephisto Waltz #1, The second half of the concert – not preserved here – featured Shostakovich's Symphony #5.
These are thoroughly good performances, largely free of the mannerisms that could corrupt this conductor's work. The London Symphony winds glory in the Gabrieli's sonorities, and Stokowski's conducting is both solemn and brilliant. English critic Andrew Porter found Stokowski's Tippett "somewhat lacking in charm and sprightliness"; his was the minority press opinion, however, and another reviewer wrote that Tippett, present at the concert, "bowed his delight from the platform." Stokowski's reading is red-blooded and unapologetic. He plays up the music's strength and downplays its incipient gush, and the London Symphony strings play with wonderful precision. The Liszt, a showpiece in any conductor's hands, but certainly one in Stokowski's hands, could be more demonic, however. The conductor seems overly intent on sculpting the orchestral sound. A histrionic harp cadenza (from Osian Ellis) near the end has a shocking impact.
Carl Nielsen's "Sinfonia semplice" was recorded on September 12, 1965 in London's BBC studios in Maida Vale. There is no applause, so perhaps this performance was recorded in the studios for a later broadcast. Nielsen's coolness in this last and most enigmatic of his symphonies might seem a poor match for Stokowski's flamboyant style. Oddly (in more than one sense of that word!), this performance works. It is good to remember that Stokowski was an advocate for modern and unfamiliar music, and the duty of introducing a new or rare score to an audience tended to put him on his best behavior. Apart from notably brisk tempos, there's little revisionism here. Stokowski trades in some of Nielsen's Scandinavian reticence for some grace and emotional generosity. He makes the score sound younger than it seems in other conductor's hands.
The sound on this disc is excellent, albeit monaural. The booklet note by Michael Jameson is objective enough, and it is good reading too.
Copyright © 2001, Raymond Tuttle