Related Links
Recommended Links

Site News
CD Review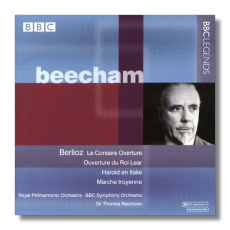 Orchestral Works
Overture "The Corsaire"
Overture "King Lear" Op. 4
"Harold in Italy" Op. 16
Trojan March
Frederick Riddle, viola
Royal Philharmonic Orchestra/Thomas Beecham
BBC Legends BBCL4065-2 72m ADD
This is the classic version of 'Harold in Italy', albeit in rather indifferent mono sound. Frederick Riddle manages to match pathos with dignity at all stages of the work and Sir Thomas Beecham is an inspired interpreter throughout. 'Harold in the Mountains' has tremendous vigour but at the same time it is a very relaxed piece full of beauty and the ideas of a wandering pilgrim. The Pilgrims March is sustained and mysterious with a suitably dreamy viola part played with distinction by Riddle. Beecham manages to conclude the work in superb fashion with a scintillating 'Orgy of Brigands' that has all the energy and volatility one could expect from this combination.
The overtures are no less brilliant with a dashing 'Le Corsaire' and a dramatically charged 'King Lear', the latter even better than Beecham's more famous studio recording. The concert concludes with a genially deft version of the Trojan March from 'Les Troyens', another Beecham 'lollipop'.
The recordings vary from good to serviceable but 'Harold' is in pretty good 1956 sound. An extensive essay on Beecham's commitment to Berlioz by Graham Melville Mason is essential reading for all fans of this legendary conductor.
Copyright © 2001, Gerald Fenech