Related Links
Recommended Links

Site News
CD Review
Schubert / Brahms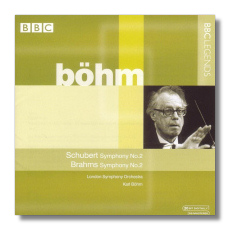 Second Symphonies
London Symphony Orchestra/Karl Böhm
BBC Music Legends BBCL4104-2
Karl Böhm was famed for his excellent recordings of the complete Schubert and Brahms symphonies and this release of a live London Symphony concert is truly electrifying on all counts.
The Schubert 2nd is cool, crisp and relaxed with an astonishing transition from the Largo to the Allegro vivace in the First movement. The same goes for the concluding Presto which has the London Symphony on top form with the concluding applause fully deserved.
But it is the Brahms that is truly memorable. Here, Böhm realizes the autumnal aspect of the first two movements and also applies a 'let-it-rip' attitude in the Finale which is truly hair-raising.
The BBC relays offer excellent quality on all counts and the notes are as usual, extremely informative. This is an excellent release in the continuing expansion of riches from the vast BBC archive.
Copyright © 2003, Gerald Fenech