Related Links
Recommended Links

Site News
CD Review
Artur Rubinstein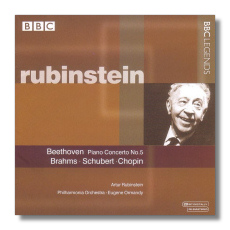 Ludwig van Beethoven: Piano Concerto #5 Op. 73 'Emperor'
Rhapsody in G minor
Intermezzo in B Flat minor, Op. 117 #2
Capriccio in B minor, Op. 76 #2
Impromptu in G Flat Major, D899 #3
Impromptu in A Flat Major D899 #4
Nocturne in F Sharp Major, Op. 15 #2
Etude in C Sharp minor, Op. 10 #4
Polonaise in A Flat Major, Op. 53
Artur Rubinstein, piano
Philadelphia Orchestra/Eugene Ormandy
BBC Legends BBCL4130-2 78m ADD Rec: 1958-63
Rubinstein's 'Emperor' is an effusive and glorious interpretation that marries restraint with nobility under the mannered direction of Eugene Ormandy. The Royal Festival Hall recording is quite adequate for its time and there is a good balance between soloist and orchestra. However I still prefer the more mercurial Curzon on another Legends disc with Boulez and an earlier interpretation by that same master with Knappertsbusch and the VPO on Decca.
Brahms' was another favourite Rubinstein composer and his playing in these three pieces is also quite magical. The Rhapsody is particularly memorable for its breadth and majesty although the dry BBC recording does not help matters so much. The two Schubert Impromptus are also excellent with the A flat one sounding particularly enticing.
Finally we have some famous Chopin pieces that could be defined as 'warhorses'. The F sharp Nocturne comes to life in a remarkable manner whilst the C Sharp minor Etude also creates a palpable sense of mystery. However the best is inevitably left for last and the legendary Polonaise in a definitely provides a magnificent end to this fine memorial to a great pianist.
Copyright © 2004, Gerald Fenech