Related Links
Recommended Links

Site News
CD Review
Jean Sibelius / Antonín Dvořák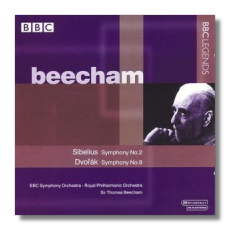 * BBC Symphony Orchestra/Thomas Beecham (8 December 1954)
Royal Philharmonic Orchestra/Thomas Beecham (25 October 1959)
BBC Legends BBCL4154-2 Mono
To my ears there are two great recordings of the Sibelius 2nd and both of them are from live performances. This is one of the two. It was issued on EMI 63399 in 1990. The differences between these two recordings can best be determined by a test.
This new recording differs from the previous one in that:

The sound is deeper
The sound is fuller
The sound is warmer
All of the above
The new recording also differs from the 1990 issue in that:

The solos can now be heard
In the first issue the solos were buried in the dull fog
This latest release provides more detail to the aural picture
All of the above
The new recording also differs from the EMI release in that:

The earlier one made the music seem almost dull
The new release makes it clear that the Sibelius performance is one of the best ever
The new release has a similar effect on the Dvořák
The new release involves the listener
All of the above
In effect listening to the two you could conclude that the difference:

Is like that between Clark Kent and Superman
Is like that between night and day
Is a metamorphosis like that of a butterfly from a cocoon
All of the above
In addition to the riveting Sibelius 2nd you also get a couple of Beecham's exhortations to the orchestra. This doesn't distract and in fact adds to the sense of occasion. So, there you have it. If you already have the EMI release you really haven't heard all of the music. Serious classical music listeners should have this in their collection.
Oh, yeah, the other one is Stokowski with the Philadelphia Orchestra from 18 December 1964 but available only in the Philadelphia Orchestra's Centenary Set.
Copyright © 2004, Robert Stumpf II