CD Review
Nielsen & Langgaard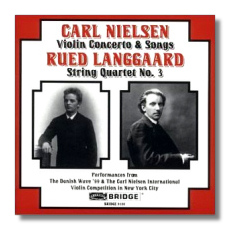 The Danish Wave

Violin Concerto
Five Songs:
Sang Bag Ploven
Dengang Doden Var I Vente
I Aften
Irmelin Rose
Min Pige Er Saa Lys Som Rav
Rued Langgaard: String Quartet #3

Lars Thodberg Bertelsen, baritone
Frode Stengaard, piano
Saeka Matsuyama, violin
Miró String Quartet
Odense Symphony Orchestra/Jan Wagner
Bridge 9100 DDD 61:47
The odd juxtaposition of repertoire is explained on page two of the booklet, in which Bridge Records's own Becky and David Starobin, the producers of this recording, introduce (retrospectively) The Danish Wave. This was a festival of Danish arts that took place in the fall of 1999 in New York City, sponsored by the Danish Ministry of Culture. For the occasion, the Carl Nielsen International Violin Competition was moved from Odense, its regular location, to New York City. Violinist Saeka Matsuyama won a Silver Medal in that competition, and was also awarded the Odense Symphony Orchestra's Special Prize, and it is her final round performance that is included here. (For the record, Leor Maltinski took the Gold.) The Nielsen songs and the Langgaard quartet were recorded earlier in the month, in performance, but not in competition.
Matsuyama, a Juilliard-trained student of Dorothy DeLay and Glenn Dicterow, has gone on to win Grand Prize at the Saint Louis Symphony Orchestra competition. She shows her star qualities in this competition performance of the Nielsen Violin Concerto. To my mind, two violinists have made excellent recordings of this work: first Yehudi Menuhin, then Cho-Liang Lin. Matsuyama is good enough to join their company. Her playing is friendly and unaffected, with an honesty that suits Nielsen well, and no apparent weaknesses in technique. The occasion lends this performance excitement and suspense, and listeners who have not responded to this concerto in the past might find themselves feeling differently about it after hearing this CD.
If Americans are familiar with Nielsen's songs, it is probably through the records made by Danish tenor Aksel Schiøtz in the late 1930's and early 1940's. (Fifteen of these are included in Pearl GEMM CD 9140.) The five songs included here are a good sample, and Lars Thodberg Bertelsen sings them very engagingly, with sensitive masculinity, and with good support from pianist Stengaard.
Rued Langgaard was from a generation later than Carl Nielsen's. International recognition of Nielsen's greatness was slow in coming, and accelerated only in the 1960s. Langgaard's day has yet to come, although he has accumulated a bit of a cult following in the last twenty or so years, thanks largely to recordings. The Third Quartet was written in 1924. Langgaard never allied himself with a particular style or fellow composer, and his music, while it sounds modern, doesn't sound like anyone else's. As the booklet notes point out, Langgaard was reviled for being too progressive in his youth (apparently he disliked Nielsen's music greatly) and then ignored in his maturity for being too old-fashioned; contemporary acceptance passed this poor man right by! The Third String Quartet is one of his more frequently encountered works. It is brief (three movements in less than fifteen minutes) and seems to chart a course of spiritual disillusionment, as the "rapacious" first movement is succeeded by a tiny but volatile scherzo, and a Tranquillo movement whose tempo indication is belied by the trashing of a hymn tune (albeit the composer's own.) The young Miró String Quartet plays it with angry concentration.
The engineering, despite the various venues, is uniformly excellent.
Copyright © 2001, Raymond Tuttle